Mi unveiled the Mi Band 3 in China in May 2018. People were really excited as the new affordable fitness tracker from Xiaomi looked better than ever. Mi finally launched the Mi Band 3 in India after much waiting by the fans. Some of the main differences between the previous Mi Band 2 and the Xiaomi Mi Band 3 are the new large capacitative touch screen display and the 5 ATM IP rating which makes the smartwatch water resistant for up to 50 meters underwater.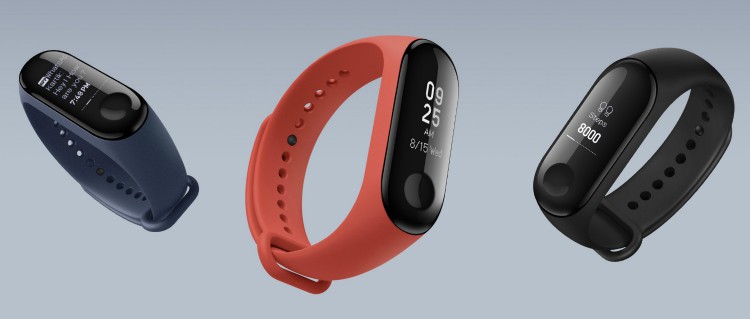 The new Xiaomi Mi Band 3 is equipped with a 0.78 inches diagonally wide OLED display which has touchscreen capabilities and has a 3D curved design as seen in Samsung Edge displays. It is also worth noting that the new display is an eighty five percent increase in display size from the previous variant – the Mi Band 2. The new Xiaomi Mi Band 3 lets the user read SMS and IM messages, show instant real time notifications from Apps installed on their android devices as well as count steps, calories lost, distance walked and also show date and time as a regular watch should.
Xiaomi Mi Band 3: Price in India
The latest Xiaomi Mi Band 3 is priced in India at the modest tag of Rs. 1,999 including Goods and Sales Tax (GST). The fitness band will be available for purchase for the buyers from two sources: Amazon India as well as the official website of Xiaomi: Mi.com. It will soon be available at Mi Home and other affiliated partnered stores for offline purchase too. However, it seems like not so soon as the band has garnered a lot of attention and will definitely be out of stock soon as seen on other budget Mi products.
Mi Band 3: Features and Specifications
As mentioned earlier, the Mi Band 3 from Xiaomi comes with a brilliant 0.78 inch 3D curved OLED display which has a screen resolution of 120×80 pixels. For navigation, Xiaomi has included a touch button on the display which the users can use to navigate by using simple gestures like swiping in up, down, left and right directions to navigate the user interface of the design in addition to the touch screen. The new Mi band also comes with a handy caller ID feature which displays the name of the caller when your phone receives a call . User can silence the call by tapping once on the touch button or decline the call by long pressing the touch display.
The Mi Band 3 comes with a large 110 mAh Lithium polymer battery which is almost sixty percent larger than its predecessor, the Mi Band 2. Also, Xiaomi has touted twenty days of battery life on single charge which is a huge improvement from its predecessor. Regarding connectivity, it is equipped with Bluetooth 4.2 BLE for pairing with your Android or iOS devices for multiple functions. It has a 5 atm IP rating which means that the smartwatch is water resistant for upto 50 meters underwater.