Smartphones have transformed the way people maintain their health. Accurate measurements of food intake and workouts help users build comprehensive fitness plans. Workout apps and pedometer apps serve as guides and replace trainers. Some apps on the Google Play Store help you exercise without a guide. They have well researched content to help users every step of the way. Some also focus on workout habit formation so users don't avoid working out when they stop using the apps.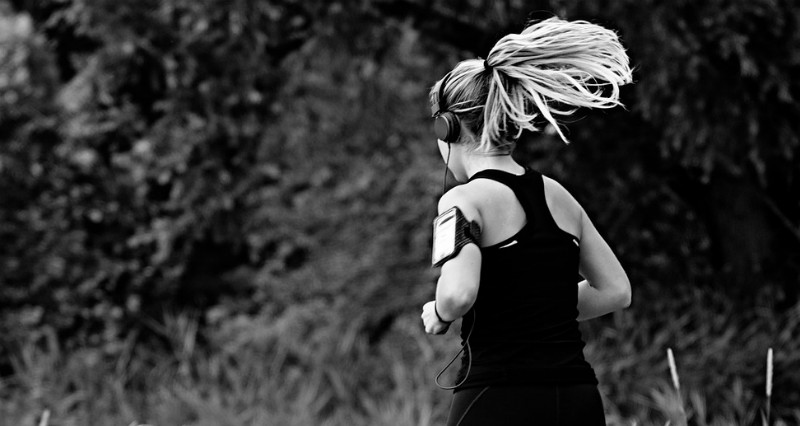 Smartwatches and other wearable devices further track user activity to analyze their habits. These habits are then modified or molded in the right direction to help you reach your fitness goals. Implementation of many health-related algorithms are crucial to form accurate reports. Centralized servers organize and study all data collected by devices used by you. Analysis of these data points help complex applications to understand your health status. Then the algorithms generate recommendation plans to improve your health. Any anomalies in the data collected help systems understand alternate methods for accuracy.
Many health and fitness apps have come up both on the Android and the Apple app stores. Only a few of them provide the necessary insights into the collected data. These apps track and generate the most accurate reports on your health.
Pedometer apps have become common apps to track your step movement. They track the number of steps you walk and the speed at which you're walking. This data is then filtered with location, orientation and other parameters. The result is an accurate representation of your health in numbers. Your height, weight, blood group and other information further increase report accuracy. These data help algorithms to provide you detailed recommendations on your health. Some of the best pedometer apps are as follows:
The Top Pedometer Apps for Android
1. Google Fit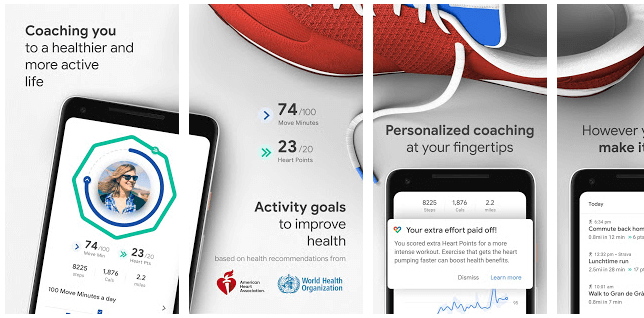 Google Fit was among the first health and fitness apps on the Play Store. It tracks, reads and manages your health information from a variety of sources. Its clean design with Material UI offers an excellent experience. Your Google account stores all your collected data. Analysis of these data points helps Google understand your health. Thus, it recommends the best course of action for your target fitness goal. Its interface helps users manage their information at a central dashboard. The app is easy to navigate and quite accurate in tracking your activities.
Google developers worked with AMA and WHO to create two new activity metrics. They are Move Minutes and Heart Points. Move Minutes tracks your movement to encourage you to move more and sit less. The app tracks all your activities throughout the day. This helps you make smarter and healthier decisions to improve your health. The app connects with most wearable devices and is ideal for information management. You can track your workouts and check your goals to build a healthier lifestyle.
2. RunKeeper
Unlike the simplicity of Google Fit, RunKeeper takes a more social approach. It is as accurate as other apps but has features that help all kinds of users. RunKeeper app is designed for community runners and helps users form running groups by inviting friends. It is efficient in tracking any movement-based activity like walking and jogging. The stopwatch mode in the app helps users track their indoor activity on treadmills. Your gym workouts are also stored to access your accurate health.
It helps you set goals, track their progress in a clean interface. The app serves as a digital coach to help you achieve your goals. The step counting app also includes personalized routines and reminders in case you forget. Challenges along with exercise rewards with achievements help you stay motivated. The app allows users to create running group and has a chat option to motivate the members. Such custom challenges can help you track each member's progress. The audio cues in the app is configurable and helps in necessary motivation. You can create training plans that the app can help you remain adhered to. The app can connect with Spotify, Fitbit and other apps to further help you use your devices and listen to music.
3. Pedometer
Pedometer is an accuracy focused app with a simple interface. It has a design like most statistic apps on the Play Store. Pedometer app focuses on data accuracy and has excellent algorithms to calculate all metrics. It collects location data from your devices and calculates the calories burned. Your age, gender and step length are crucial in calculating the calories burnt. The graphical interface is accurate and displays up to the second information. All device information is plotted on the app and calculated for reporting. The step counter app also supports themes to allow you to change the design and interface. This is the perfect step tracking app for minimalists looking for accurate information.
4. Strava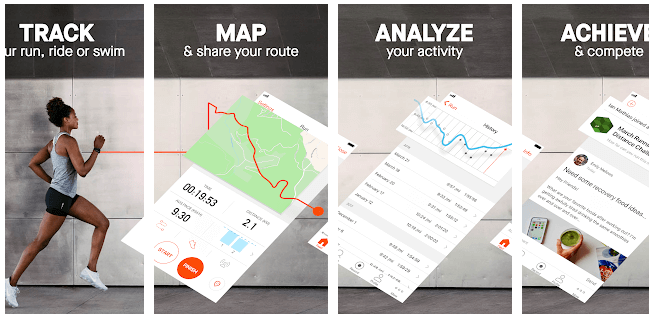 Strava is a favorite among bikers and runners. It helps users record their movement, analyze the stats and optimize their health. The app functions like a sophisticated tracker and captures all possible information. It supports most wearable devices and perfectly syncs with other apps. The trail network built by the app is among the best features. The app users who have run through a path leave a trail on Strava. This helps other users find interesting trails along their way.
The app is also perfect for swimmers and bikers. It tracks swimming pace, distance covered, cycling speed and calories burnt. You can share your route maps with friends and get recommendations on your trails. The app also has a storing community of users who associate themselves with brands and teams. The app also has a premium plan that helps you manage your workout even better. It offers challenges and customized plans to help you reach your fitness goals. It also offers live feedback based on its recommendation algorithms for motivation.
5. Runtastic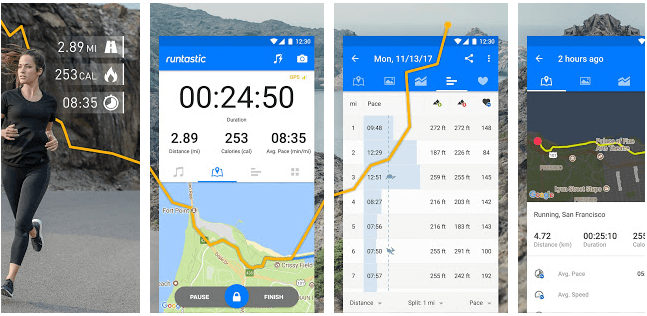 Runtastic is one of the best pedometer apps on the Google Play Store. It won the Editors Choice for health apps and also has a pro version. It has all the features necessary in a step tracking app. Its use of Google Maps is exceptional. It tracks speed, distance and elevation of your tracks. The voice coach in the app keeps you motivated. The monitored data helps you analyze your running patterns.
You can set a yearly running goal and the app guides you throughout to help you reach your goals. The app also reminds you when you should get a new pair of shoes. You can make and join groups to invite friends and form a social network. The interface is intuitive and keeps track of all information. The leaderboard help you compare your stats with your friends and group members. The app is optimized for all wearable devices and syncs perfectly with Android Wear. The free version has ads but the premium subscription is ad-free and has a bunch of extra features. The app also features stories to help you stay motivated.
6. Step Counter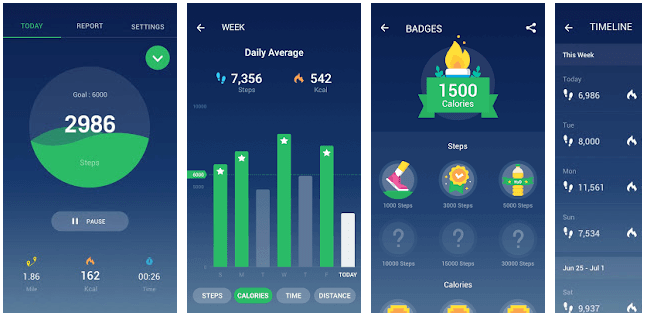 Step Counter is a one of a kind app that doesn't use GPS to track your movement. It has inbuilt algorithms and takes its data from other input sensors. Thus, it saves battery while tracking accurate movement information about you. Unlike other apps, it can track your steps even when your phone screen is locked. It works with wearables and collects data from all kinds of sources to generate reports. All features are available for free and there is no paid subscription.
Moreover, it is also the most privacy focused application. You don't have to sign in as it does not collect any data about its users. You can back up all your data to Google Drive and restore them whenever you like. It was also featured as an Editor's Choice. It supports themes and allows you to customize the design as per your preferences. The app uses information provided by you to calculate your calories, steps and other information. The app also helps you lose weight and manage your profile.
7. Nike+ Run Club
Built by Nike, Nike+ Run Club is an excellent app for android. It provides a great ecosystem to achieve your goals. The has a huge community of runners and provides expert guidance along the way. It tracks all your movement information. App provides excellent guidance from its coaches and experts. You can create personalized training plans to help you adapt to your schedule. Your achievements lead to trophies and badges to help you celebrate.
It also has leaderboards to rank your progress in comparison to your friends. In-run cheers from friends help you run the extra mile. You can also set personal records and upon achievement get rewarded with trophies. Audio guided workouts are paired with playlists to help you focus and stay motivated. Runners can improve speed, strength and endurance with the workouts in the app. The intervals in the app are also automatically marked to help you focus on your running.
8. Accupedo Pedometer
Accupedo is one of the few pedometers that focuses on accuracy. It tracks all information and displays them in graphical interfaces. This helps users make informed decisions about their running and workout plans. It has 2 modes of operation. The first one is the commonly used GPS mode and the second is the power saving mode. The power saving mode doesn't use GPS information and is thus more efficient. But the GPS mod helps you map your location accurately on your tracks and trails.
You can set your exercising goals and personalize them as per your choices. Thus, help the app provide actionable insights into your running patterns. It supports Google Fit and thus can get all your workout history in seconds. The app has a customizable widget display that is perfect for all types of mobile devices. The widget displays all information in a minimal design helping you stay informed.
9. Pacer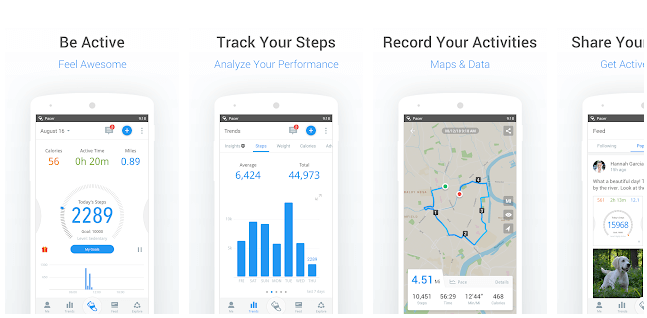 Pacer is an independent app to track your steps, distance and workout schedules. It starts tracking your movement once you download the app and configure it. Pacer app works in the background and doesn't interfere with your other apps. It can sync with My Fitness Pal and Google Fit to track your history and provide actionable insights. It tracks you 24/7 and helps you recognize your daily patterns of movement. This greatly helps you in understanding your daily movement schedules.
Further the Pacer app has all necessary features to keep you motivated. The pedometer preferences can be set separately to improve accuracy. You have to ignore the app when cleaning the phone as it stores data in the peripheral storage. Cleaning the phone thus shuts down the app and sometimes deletes your preferences. As the app is independent of all other devices, it can track you without any hardware. You also don't have to login or register.
10. MyFitnessPal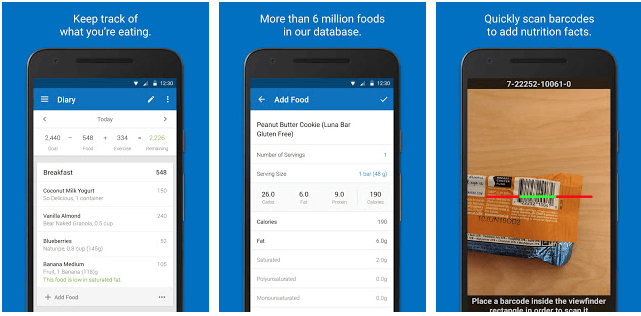 MyFitnessPal is one of the most recommended apps on the Google Play Store. But it isn't just a simple pedometer app. It has the most complete information database about everything you need to improve your health. It is a perfectly designed app for all kinds of workouts. You can track your workouts, movement and food intake and nearly everything you can imagine. Its database has the best health related information for all types of workouts.
It syncs perfectly with other apps like Google Fit and provides insights rarely found in other apps. It can also help you cook better by importing nutrient information about your recipes. Moreover, you can also track your daily food intake. This helps you manage all your health-related information in a single app. It also has a huge community and helps you connect with your friends. Leaderboards, badges and other features keep you motivated. This is truly an all in one app for your overall health.
Conclusion
The Google Play Store has hundreds of pedometer apps. But the above selected ones are among the best and most used apps. IF you're looking for a minimal app with all necessary features then Google Fit is an ideal choice for you. But if you're looking for a comprehensive app for your overall health then MyFitnessPal should be your choice. If you're looking for a community-oriented app then Strava, Runtastic and RunKeeper are perfect solutions. Nike fans have the Nike+ Run Club that serves as a perfect companion for all runners.