Caller identification has remained a crucial feature since the days of landlines. The advent of smartphones has further fueled its growth. Decentralized networks and changing phone numbers have made it harder to identify callers. So, companies and individuals have come up with social alternatives to the problem. Crowd sourced information has allowed organizations to collect near accurate data about users. This information paired with authentication methods have led to efficient call identification solutions. Now servers have collected data from almost all smartphone users. This collected data is filtered and verified to ensure accuracy. Intelligent algorithms have also played a huge role in resolving conflicts. Thus, lets understand how caller identification works before we review the top apps.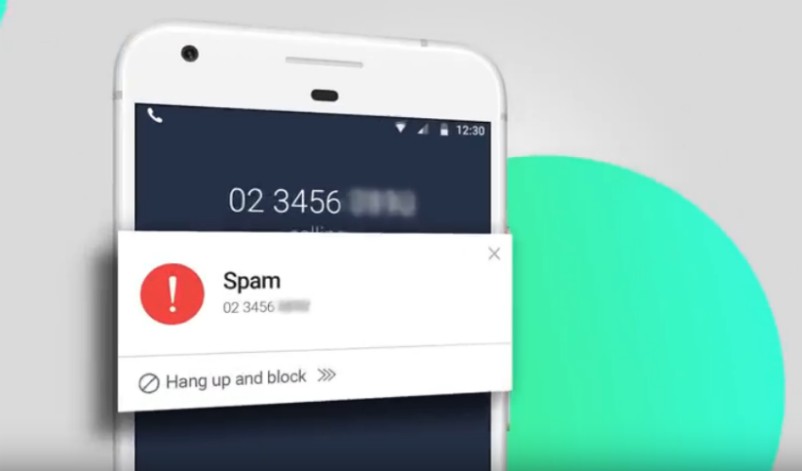 The Top Android Caller ID Apps
1. Truecaller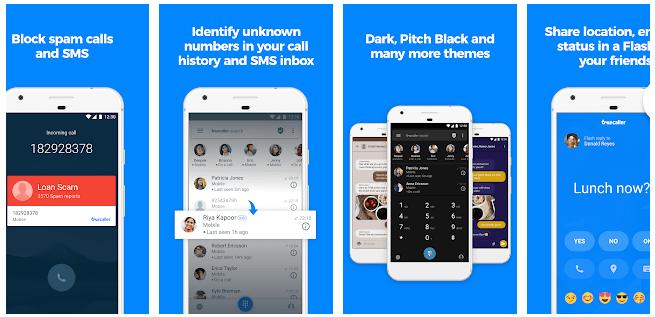 Truecaller is the industry leader in call identification and contact management. It is one of the best apps on the Play Store with unprecedented features. It has everything you might need to find and identify callers. Its database is huge and focuses on accuracy of information from gathered data. You can find information about any caller or phone number on its web application.
The application allows users to sign up with Google or Facebook. This allows the app to verify the real identities of people along with name, email address. It also collects other vital information about users from social networks. Yet the app is highly secure and respects user privacy. it does not allow users to view your phone numbers. Users can search for other users on the app but they cannot see their phone numbers. This ensures the necessary privacy and allows users to trust the app. Otherwise the app could have a great negative potential to disrupt privacy of people. It is used by millions of people worldwide and supports all kinds of devices.
The app also has a huge spam list accumulated by the community. All your messages and calls are filtered through the spam database and categorized. This categorization immediately alerts you to potential fraud and marketing calls and messages. You can also block unknown callers and messages. The app also has a call recording feature. The recent updates included a Flash Messaging feature that is an alternative to text messages. The flash messages are efficient but needs internet connectivity to function.
The app also has an excellent tagging feature that allows users to select their industry. This information is broad enough to be non-intrusive and informative enough for other users. Thus, every time you call someone, all they can see is your phone number, name, email address and city or country. This is accurate enough to identify users and make informed decisions. Truecaller offers a premium version of the app that allows you to check who viewed your profile. You can also request contact details of upto 30 users in a month. The premium version excludes ads unlike the free version of the app.
2. Whoscall
Whoscall is the next in line with a huge user base in Taiwan. It also has a huge database of billions of contacts and crowd sources information. It was featured as the Google Editor's Choice and has been one of the best performing apps on the Play Store. The app is efficient and has an excellent performance rating. It supports nearly all kinds of devices. Moreover. Whoscall like Truecaller is a complete contact app that runs on existing apps on your device. It has a non-intrusive design that lets the app blend in perfectly with any device.
One of the most awesome features of the app is its ability to identify unknown callers when offline. The app does this by downloading and storing the entire database in your phone storage. The encrypted database is then queried for any unknown numbers that call your device. This also ensures that the information collected by the app is self-contained. It can be controlled by you by restricting internet access to the app. The free version is filled with ads but the premium version provides extra features. Users unfamiliar with the app has pointed out some glaring problems. But the company fixes the app and has one of the best update schedules.
3. CallApp
CallApp is another contender to the throne that competes with Truecaller. It has curated a huge database overtime and has perfectly positioned itself as a Truecaller alternative. CallApp offers all the necessary features along with a call blocker and contact app. It collects extensive information from its users and also makes them readily available. Thus, it might not be preferable to users concerned about privacy. It supports nearly all devices and sometimes shows some bugs on new untested ones. The free version has a lot of ads.
The app offers an automatic call recorder that is easy to configure and operate. The configuration allows users to record all incoming and outgoing calls. The spam call and text message blocking are effective and are easy to configure. The app allows users to automatically block all incoming calls from spammers. It also supports reverse phone number search from its extensive database. Unlike Whoscall, it does not download the entire database to your phone. This increases performance and thus the app is more effective in identification. Blacklisted phone numbers in the app cannot call or text you. The app automatically blocks and hides their call record and text messages from logs. The social features are quite intrusive as compared to other identification apps. It allows users to view all information it collects about them when they view your profile.
Recent updates of the apps have increased the number of ads on the app. This has been a major concern for its users. But the app has found its market share and thrives as an alternative to Truecaller.
4. Calls Blacklist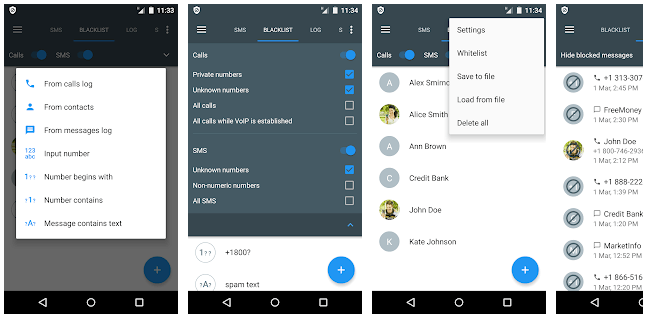 Calls Blacklist unlike other identification apps is a highly appreciated call blocker app. Although identification is the first step in blocking any incoming calls, the app focuses on its blacklist feature. Thus, it has become a personal favorite of a huge user base. The database is extensive and is often crowd sourced. The app also uses information from social networks and email providers. These verified providers are often the best source of information about phone numbers. This information is then filtered and carefully managed through intelligent algorithms. Thus, app is highly effective in blocking unwanted callers and telemarketers. The crowd sourced data allows it to quickly detect spam callers. '
The app also has a blacklist that users can easily configure. This allows users to easily manage the numbers they want to block and also customize it. The blacklist can also contain phone numbers from your contact list. The app supports regular expression matching to block numbers. For example, you can block all numbers that end with a specific set of numbers. Most marketers have the same set of initial numbers and only vary its last few digits. Regular expression-based matching thus allows users to block such number sequences. But the feature is so powerful that it might end up blocking all number if not used carefully.
The app also allows users to block calls while you're on Skype or other VOIP calls. This is a much-needed feature that is missing from other apps. VOIP calls often get disconnected when network calls start ringing. The app goes a step further by allowing you to import and export your list of calls to be blacklisted. Thus, you can import your blacklist from your existing app and easily start using the app. Users have loved the app and it has excellent ratings on the Play Store.
5. Should I Answer
Should I Answer? is another alternative to the above apps that provides an excellent solution. The app focuses on answering the simple question that you might face at every unknown number. It has a robust database of user generated information along with crowd sourced information. One of the most striking features of the app is its ad-free nature. Unlike all other apps on the Play Store, Should I Answer doesn't show any ads on the app. It is a perfect solution and users love it. This ad-free functionality has compensated for its lack of information. Unlike Truecaller, its database is much smaller. But the data is more effective as more and more people sign up due to its ad-free nature. Its slowly growing database is now gathering user information at a massive rate. The app also respects user privacy.
6. Hiya
Hiya is another Ad-free caller identification app that is popular among a lot of users. It has an attractive interface and is built for performance. Hiya supports all kinds of android devices, even the older versions of the app. It supports a social approach to call identification by allowing users to report spam callers. The database of information is relatively smaller but is more accurate. This accuracy in data is due to the socially collected information from the users.
7. Mr. Number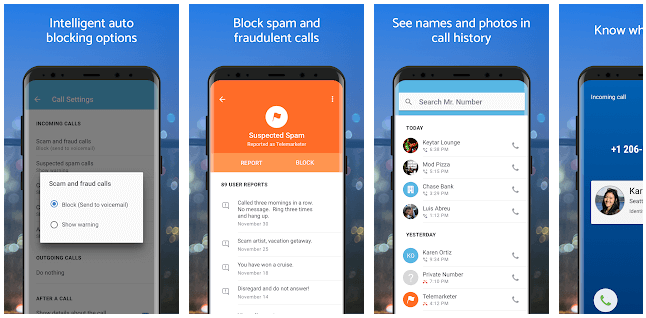 Mr. Number is another call identification app by Hiya. Its sole purpose is to identify calls by curating information about the numbers from all possible sources. Thus, the app is an excellent alternative to Hiya and has all the features of a necessary call blocker app. The app has some features that are not present in competing apps. Mr. Number allows you to block calls from all users based on locality and country code. It also allows you to intercept a call and send it directly to voicemail. This is efficient if you can't attend a call immediately.
Conclusion
The above apps are among the best caller id apps for android devices. You can find dozens of other applications but the size of the database is quite important. Thus, Truecaller is the most effective among all other caller identification apps. Its huge user database collected from over the years has made it extremely effective in identifying calls. Now it also supports payments and other useful features in select regions. You can use other apps along with Truecaller if you want better identification. More apps will lead to more chances of finding the accurate caller information.
How do Caller ID Apps Work?
Caller identification during landline days meant being able to see who called you. Then the same technology moved to mobile devices. Network operators can not share subscriber information. Thus, subscribers only had access to the number and nothing more. But the advent of smartphones changed everything. Mobile devices have internet now. Thus, information could be shared among devices in seconds. Evolving network protocols further eased the process. Client server communication led to easier data collection. Apps on the phone now had access to your contact list. This contact list when uploaded to the server was an efficient source of information. The users further helped the apps identify themselves by creating accounts. The verified information from the accounts were then used as caller information.
Thus, every time you received a call from an unknown number, the app pulls the data about the number from its servers. This data collected from the users and everyone the user has called before was now available to you. Thus, it is easy to identify unknown callers within seconds after you receive the call. All these information is constantly collected and analyzed by companies. This allows the databases to remain accurate with latest information about phone numbers.
The constantly changing phone number have further made it difficult to identify unknown callers. Plus, cheaper plans allow even normal users to act as spammers to sell products and services. Thus, tagging the users by industry and other categorization features are necessary. This allows customers to understand who is calling and what their intention might b. Companies like Truecaller have taken the concept a notch further. They have integrated all necessary features in their app to understand users. This information is categorized and spam messages and calls are immediately barred. Similar models are adopted by a lot of companies to understand and deliver identification. Let's review some of the commonly used Caller ID apps for Android.