It was in the year 2015 that Apple released its first smartwatch. The Series 1 and 2 were launched in 2016 while Series 3 was launched in 2017. These watches have WatchOS which are based on different iOS versions. As soon as it was released it became the best selling wearable in the market with 4.2 million units sold in the second quarter of 2015. Moreover, Apple watches rely upon the iPhone for connectivity such as calling and texting. While WiFi chip is present in every Apple watch, it has a limited connectivity feature away from iPhone. With the Series 3 watch, there is no need for connectivity to an iPhone however one is required to setup the device. With all these improvements and a lot of updated features, on 12 September, 2018, Smartwatch Series 4 was released.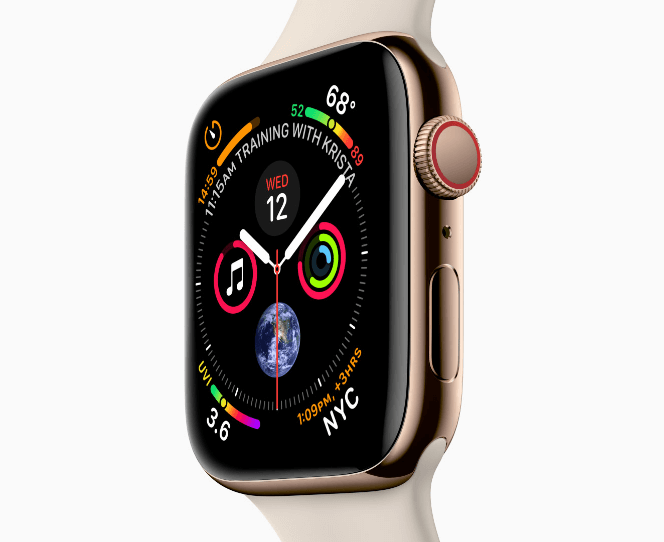 The next generation Smartwatch stole the show with its variety of features from larger display to built-in heart sensors that can measure various heart metrics. Along with this there were some notable new features. It is available in two sizes 40mm and 44mm with 30 percent larger display. There is detailed graphics information which helps users to keep track on heart rate, stock (that will raise the heart rate), score cards and more. If we talk about the color then Series 4 is available in three variances: silver, gold and space grey.
A new application Breathe app will be available at the watch face. Simply raise your wrist and the app will guide you through deep breaths. The speakers have also been upgraded with 50 percent more volume. The microphone has also been shifted to opposite side that might reduce the echoes during phone call. The back of S4 is made of black ceramic and sapphire crystal. It allows radio waves to pass through which will improve cell reception. The S4 has got 64-bit dual-core processor that makes it twice as fast as its predecessors. The dynamic range of accelerometer and gyroscope has been increased significantly. There are no developments in the battery life.
The S4 runs Apple's new WatchOS 5 operating system. It comes with loads of improvements, like enhanced fitness and health tracking, walkie-talkie mode, and more. The best feature is that the smartwatch can now detect when you fall by analyzing the impact of acceleration and wrist trajectory. If you don't move for a minute then it will automatically send message to your emergency contact using the SOS feature. Similar to its predecessors, S4 will keep a track on heart beats and calories burned. In addition to this it will send you notification regarding the low heart rate if here is an irregularity.
The Apple Watch Series 4 starts at $399, while the cellular model starts at $499. It is available for pre-order in US. We are all aware of the features and the quality that Apple provides in all its product. The ease and accessibility to all your health needs is on your wrist. The interface is way better than any other smartwatch. It is a well furnished product and you won't regret it having on your wrist.