The Android Play Store has hundreds of apps that remind users and help take notes. The acquisition of Sunrise and Wunderlist by Microsoft has renewed interest in note taking and reminder apps. Every major company has produced, at some point of time a note taking app for its users. Thus, there is a very little difference between note taking apps and reminding apps. Over the years, the number of features has increased owing to the usage and demand of the customers. Now nearly every note taking app supports cloud synchronization. Advanced categorization and tagging features have also become important features. Some of them support all available devices and operating systems. Let's review some of the most popularly used note taking and reminding apps for Android.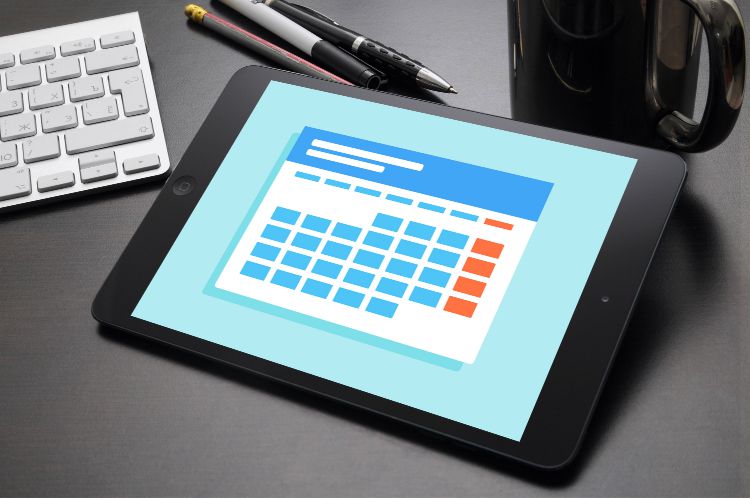 Top Reminder / Note Taking Apps for Android
1. Evernote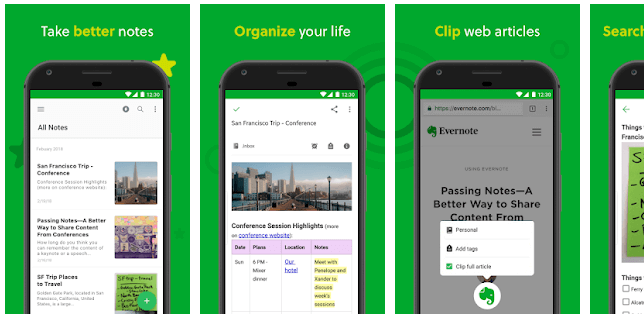 Evernote is the most popular and widely used note taking and reminding app. It is available for all devices and supports most operating systems including Linux. At one point, it was most funded note taking app. Its ease of use and advanced features for categorization and tagging allowed users to use the app for all purposes.
Continuous development for the app led it to becoming the most popular Android app on the Play Store. It started a new wave among developers and companies to build simple reminding apps that focus on solving problems. It supports cloud synchronization and advanced editing to allow users greatest flexibility. Now it is being used for both personal and professional cases. It is free for users but also has a paid plan ideal for advanced and heavy users of the app. Moreover, its extra apps like the web clipper, templates and integration make it one of the most feature rich reminder apps for any platform.
2. Any.do
Any.do is another alternative to Evernote with a rich ecosystem of apps. The app includes a to-do list, calendar, grocery list, reminder and a day planner. A recent addition to the ecosystem is its assistant that works like the Google assistant or Alexa to help you with your tasks. The app has a beautiful interface and all its apps work seamlessly with each other. You can easily switch between apps or download only one of them as per your requirements.
Any.do supports most operating systems and web-based environments. All data is synchronized seamlessly across many devices. The app has grown significantly over the years based on consumer demand. The efficient separation of the four sections of the app makes it easier for users to use only what they need. This significantly increases performance while helping users achieve their tasks. The app also includes widgets for the home screen that further ease user interaction with the app. Unlike the Google assistant the Any.do assistant is paid for its users but it offers a free trial.
3. Google Keep and Google Tasks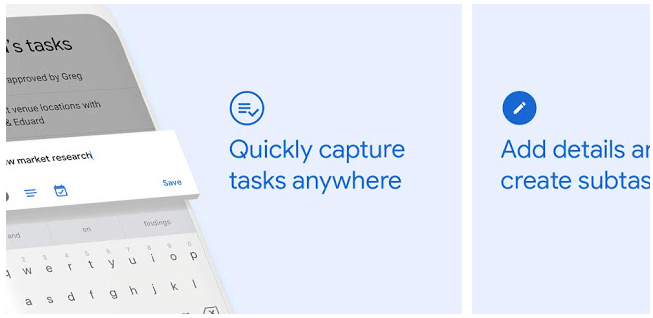 Alphabet, the parent company of Google like other major companies also has its own reminder apps that work with other Google products. Google Tasks is a relatively new app but Google Keep has been around for a long time. Both the apps are now available on Gmail and other Google apps. They provide most of the features commonly available in all other apps but have the added advantage of Google integration. The apps are perfect for you if you are a frequent Google user and heavily depend on Gmail for your day-to-day tasks.
Google tasks provides a better interface but Google Keep has much more functionalities. Moreover, all features are free and there are no paid plans like other Google apps. In the recent upgrade to Gmail and the Google Chrome browser, Google tasks and keep are available at a moment's notice on the right panel. They can optionally be closed to reduce distractions. Both apps have categorization and tagging features that allow you to grab notes right from the browser. The separate apps on the Android Play Store allow you to choose the comfortable one. They are perfect alternatives to most paid and premium apps, if you are looking for basic features that works across devices.
4. Microsoft To-Do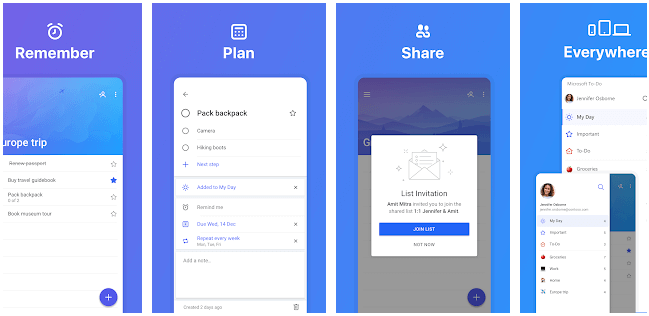 Microsoft's To-Do a recent development from Microsoft after they acquired Wunderlist. Along with the basic features available in Wunderlist, Microsoft's To-Do offers a bunch of features ideal for its customers. It has the familiar Windows 10 based Universal Windows Platform design. Thus, the app has a better user interface with a clean design that helps you focus on what matters most. Unlike other Windows apps it is not bulky or intrusive in its design. It has advanced categorization options along with tagging, task management and other options. This reminder app was built by the Wunderlist team but integrates closely with or without Microsoft products.
It has excellent reviews on the Android Play Store due to its performance benchmark. In a very short span it has garnered thousands of users. Its intelligent algorithms help you focus on what matters most by categorizing your tasks and reminders. The features work seamlessly along with other Microsoft apps. Yet, it does not support its competitor platforms. You can share the lists or invite users to collaborate synchronously on the app. It also allows color coding of your lists and tasks. The app supports the Getting Things Done method by David Allen. It is followed my millions of users worldwide to categorize their priorities. New features are added as the app is in continuous development since Wunderlist. It does not have any paid versions but the free version should be more than enough for all your requirements.
5. Remember the Milk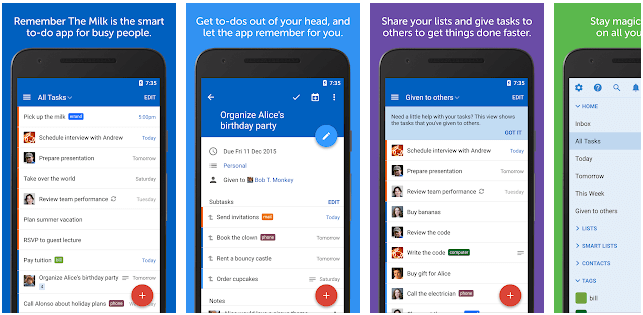 Remember the Milk is one of the oldest reminder apps on Android devices. It is often considered as a source of inspiration for most task management and to do list apps. The app is designed perfectly and as a clean user interface. It is often considered as a Swiss army knife of to do list apps. It allows you to do nearly everything you can imagine with your tasks. Moreover, the app has much more advanced categorization features in comparison to others of its type. It also offers many different ways to alert and remind you through email, text or IM. You can also share the tasks with your friends allowing delegation efficiently.
One unique feature of the app is its ability to create smart lists. You can search for eternity word and save those search results as a smart list that you can access later. This is a feature often lacking in most to do list and task reminder apps. It can help you sort through thousands of tasks that you might have in your app. Managing large number of tasks often becomes easier with smart lists. It also has excellent integration with calendars, Twitter, Evernote and most other applications. Besides, it also allows you to sync your tasks with Microsoft Outlook.
6. Tick Tick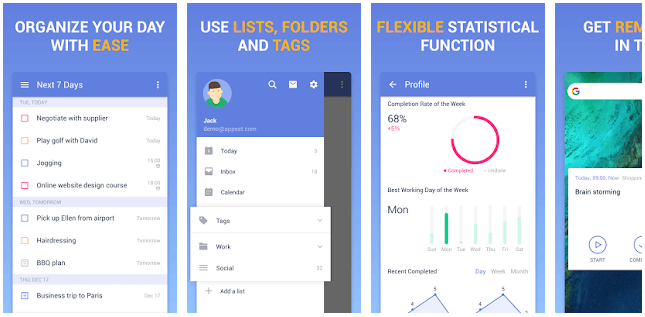 Tick Tick is another to do list and calendar app with excellent ratings on the Play Store. It is also the Editors Choice for productivity apps. It has a beautiful interface with intuitive workflow that can blend into any existing calendar to do list apps. Its parsing features let it stand out among other applications of its type. You can easily voice down your notes and the parcel will automatically pick up dates and set alarms for them. It is highly efficient and is often the most preferred feature among its users.
Along with that it has all the necessary features of basic task managers. It allows unlimited storage and sub task creation that can come handy for heavy users of the app. The flexibility in the app along with its many features makes it one of the most perfect applications for both work and personal use. Its calendar can integrate with existing calendars from Google, Microsoft and other companies. The app includes an excellent repeat system that is highly customizable and allows you to set repeat the tasks regardless of time. The app also has a pro version that expands on nearly every feature provided by the app. It is excellent for heavy users and people who like to transcribe their notes.
7. Todoist
Todoist is another extremely powerful and flexible task management system. It was also featured as Google Editor's Choice for productivity apps. Like Evernote, Todoist is also available on every platform and has a consistent user interface. The app includes an excellent text parsing system that can understand your texts. You can just type the tasks and the app can set an alarm by parsing the text and understanding what it means. It goes above and beyond by integrating with several apps. Its integration with Zapier and IFTTT makes it the most fluid app. It also offers a business plan for users that can be used by small businesses to manage projects. Easy delegation and the ability to share makes the app even more powerful.
8. Ike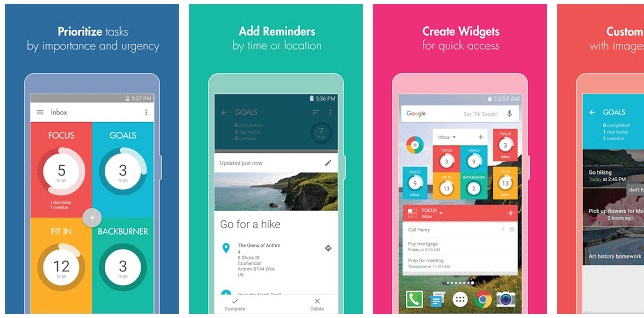 Ike is another efficient task list manager with inbuilt reminders that follows the Eisenhower method. The Eisenhower method was popularized by Stephen R. Covey in his book 7 Habits of Highly Effective People. It helps you categorize between tasks that are important and urgent to help you focus on what matters most. It was the Editors choice for productivity apps and its pro version has extra themes and features. The priority matrix is perfectly designed for productivity and optimized workflow. The app also employs Google's speech to text engine to automatically jot down tasks you dictate. It also allows you to directly record audio or even add images to the tasks for better context.
9. Sectograph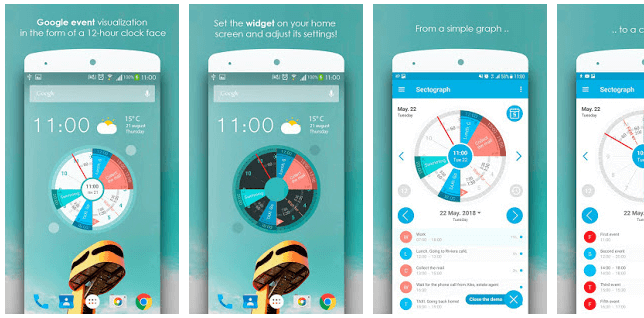 Sectograph Planner Time manager on clock widgetuses quite a different approach to task management. It is more of a calendar app than a task management app. However, it deserves the credit because of its innovative use of the clock. You can now easily schedule all your tasks on your calendar and the clock will showcase your tasks. This brilliant idea is not found in any other app and thus Sectograph is quite unique.
It doesn't have any task management or reminder system of its own but uses the inbuilt calendar to gather all your information and schedule. This helps you use existing apps while using Sectograph to visualize your tasks on the clock. The clock is beautifully designed and you can change its design instantly. The app also offers a pro version that provides additional customization options. The Sectograph clock is available as a widget and can be used to replace your traditional clock on your android home screen.
10. Wunderlist
Wunderlist is a popular app with minimal interface. It has advanced categorization and tagging options. It allows users to sync their tasks and set efficient reminders. It's available for all devices with a consistent user interface. The minimal interface allows powerful categorization options into groups and lists. Each task can have sub tasks but they are limited in the free version of the app. To have unlimited sub tasks you have to upgrade to the premium version. The premium version includes unlimited storage, sub tasks and lists.
It was acquired by Microsoft and the development team started working on Microsoft's own to do list app. Yet, Wunderlist is still available for users to download and use and provides all the same features it once did. But extra features and future developments will not be made to the app. The app works bug free on all its devices and thus has a consistent user base. But as it happens with all apps when acquired by parent companies Wunderlist might be shut down in the future. It has already started to show warnings and recommendations to move its users to Microsoft To-Do app.
Conclusion
Out of the hundreds of apps on the Play Store, there are only a few that have become popular. If you're are frequent user of Google services then Google Tasks and Keep should be more than enough for all your requirements. They are integrated in to the GSuite apps making them excellent companions to your email and calendar apps. Microsoft fans have Wunderlist and Microsoft's own To-Do app. Ike and Sectograph are ideal for visually inspiring designs. They offer quite a different approach to task management with beautifully designed interfaces.