Learning a new language can be quite difficult. Understanding the culture and traditions of a community is important to understand a language. A language further varies from community to community. It is tougher to understand the subtle accent differences while learning a language. One has to understand the content and form responses in a conversation. Thus, textbook learning is not enough to learn a language. Mobile apps have simplified the whole learning process. We have immense learning flexibility with real time access to vast information.
Social networks have further enhanced the way we communicate. Now we can find hundreds of people willing to help us and our learning. We can now talk to people once we've understood the basics and are familiar with the common words. Our understanding of the language and its quicks develop with constant conversation. Understanding the accent in a language takes a lot of time and effort. It's unlikely to be able to imbibe a local accent without staying among the people. But the Android apps have help you if you're new to a language like Spanish. They help you gain the initial comfort and familiarity with a language. Some of the best android apps for learning Spanish are as follows:
The Top Spanish Learning Apps for Android
1. Duolingo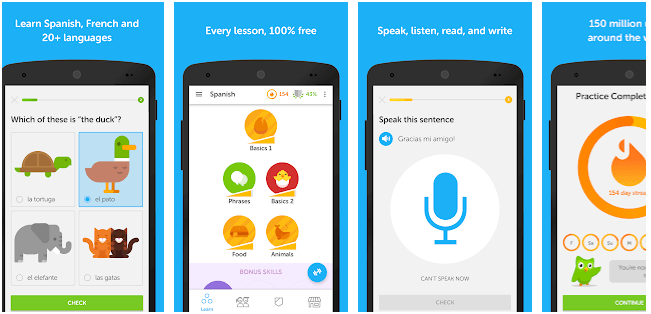 Duolingo is a widely used language learning app for English, Spanish, German and many other languages. It has an exhaustive library of content along with games and features. All these features help you improve your reading, writing and comprehension skills. You also improve your speaking skills by speaking into the app. The app works seamlessly and has a great user interface to keep the users engaged. The question and answer lessons help you improve your writing and vocabulary skills.
Duolingo offers a lot of languages including Spanish in the app. Thus, you can understand the same context in multiple languages. It tracks your growth and learning curve by engaging you in exercises. It starts with common phrases used in daily life and advances to complex vocabulary. This helps you grasp the basics at first before you move on to harder language sections. It has an excellent community that can help you with your real-life examples of language learning. The premium version of the app has a lot more content. It is ideal for serious learning and has all necessary content to gain an overall language expertise.
2. Memrise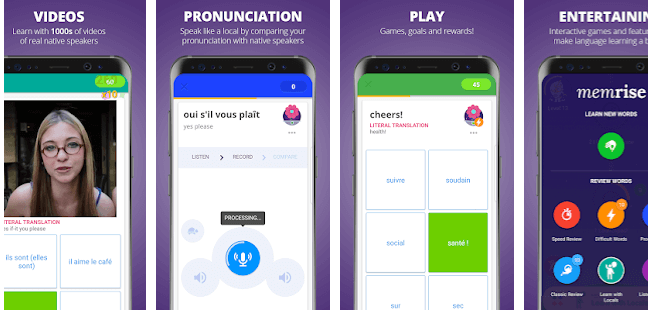 Memrise is another widely used language learning app that was featured as Editor's Choice for 2017. It focuses on a real time experience in language learning. The app has chatbots and addictive games that aim to teach you while keeping you entertained. The bots in the game are effective and help you improve your conversational flow. The app has more than 30,000 videos of native speakers in each language. The app also offers a paid membership that gives access to premium content not available in the free version. The premium content helps you develop your skills and build perfection in a language.
You can also talk with native speakers of any language and get immediate feedback. This helps you jump out of the bookish loop of language learning and helps you understand the language. The Spanish learning app has a pronunciation guide that helps you record and compare with native speakers. You can download all necessary content to your device and use the app offline. This is useful when you don't have access to internet. The chatbots in the app help you form conversational language with intuition. This simulated the experience of talking to a person and improves your language.
3. Tandem
Tandem is an excellent alternative to traditional language learning apps. It has a huge social network of people from all over the world who help you learn their native languages. Language learners often practice the theory and miss out on meaningful conversations. This often leads to problems while talking to people in their native tongue. Thus, Tandem developers have turned the app into a social network for languages.
You can learn Spanish from someone in Mexico and they can learn your native language. This helps people express the subtle details in languages that are not taught. This cultural exchange with customers is vital in learning a language. Users also have an option to choose the medium of communication. You can opt for chat via text, audio or video calls. The Spanish teaching app also has translation inbuilt to help you when you stumble. It is the perfect solution for people who hate learning with traditional methods and like a more hands-on approach. This is the closest you can get to a locality and experience the language and customs.
4. HiNative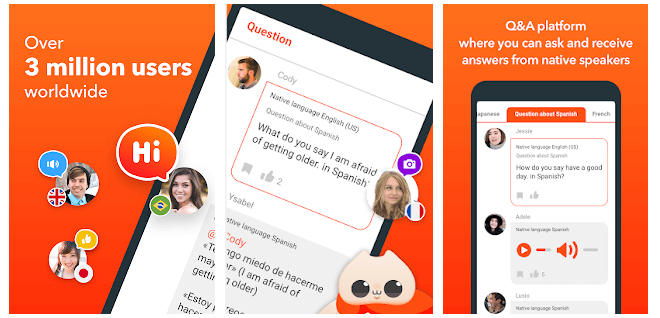 HiNative is another unique app built for learning with question and answers. Like StackExchange on the web, HiNative focuses on languages. Any user can ask a question about the languages and the native speakers of a language can answer. The app has built a strong community around its members. All newcomers are welcome to post questions who get encouragement to learn.
You can upload your audio to check if your accent matches the target area language. The question formats are simple to use and help users get started easily. Your questions are translated to the target user's language immediately. The app goes a step further by allowing you to upload pictures. This help you ask the community about a topic that might not be understandable. The app supports 110 languages and has a rich ecosystem of users.
5. Babbel
Babbel uses a traditional approach with language learning. It has all the necessary features of a language learning app. You are served with small byte sized lessons in Spanish accompanied with tests and spaced repetition learning. This helps understand and grasp the initial vocabulary and grammar of the language. The courses are intuitive and help you engage in real life skills for conversations.
The app provides a minimal learning environment by helping you focus on one thing at a time. It keeps you engaged through explanations and grammar cues. Review sessions are built keeping in mind your strengths and weaknesses. The app also has an inbuilt speech recognition to help you with pronunciation. All your learnt information is kept in the Review Manager. It serves as a reminder of your learnt syllabus. All your learning is synchronized across devices instantly.
6. Wlingua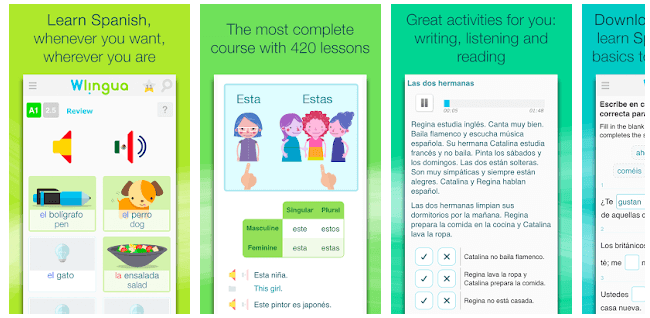 Wlinggua is a true Spanish learning language app that understands the difference between Spain and Mexican Spanish. Unlike other apps it lacks some features but makes up for them through its vast knowledge base. It is a must have app for all Spanish learners as they can understand the subtle difference between Spanish and Española.
The first thing it helps you notice is the difference between the two languages. In Mexico, Spanish is called Castellano. But in Spain, Spanish is called Espanola. It starts from the beginner's level and helps you understand the basic difference between the languages with subtle real-life examples. This is greatly helpful for both native Spanish speaker and language learners. It focuses on grammar and simplifies complicated topics to help you understand the basics. But the app lacks the much necessary social network around it. The previous apps with social networks help people understand the content with native speakers. However the theoretical framework provided in the app is exceptional and rarely found in other apps.
7. SpeakTribe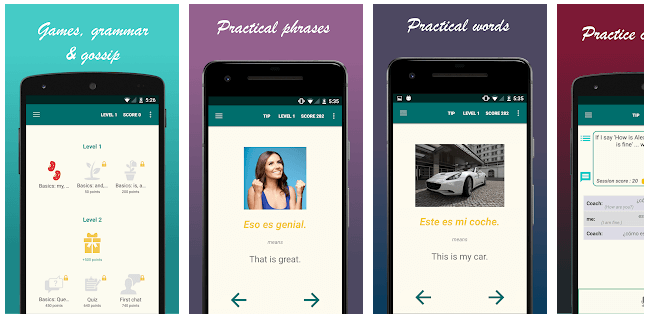 SpeakTribe focuses on teaching conversational Spanish instead of grammar. This helps you understand the structure of the language before you dive deep into its theoretical frameworks. Its vast amount of conversational content can get you familiarized with the language in less than a week.
The app functions like a virtual character that helps you learn the complicated parts of the language. Once you're thorough with the conversational language, you are dived into vocabulary learning and grammar. This is where you learn all the necessary and weird parts of the language. All content in the app is thoroughly explained. It also helps you improve your pronunciation by comparing it to native alternatives.
SpeakTribe helps you learn a language quickly by getting you comfortable with the common vocabulary and structure of the language. Then it takes you through contexts where your vocabulary needs to be stretched to adapt. This helps you form an inquisitive nature about ideas and concepts. Then the words for the context is explained which helps you grasp the concepts quickly and retain forever. The app also focuses on listening and speaking rather than reading and writing so that users can quickly start using the language.
Conclusion
Duolingo and Memrise have become standards in language learning. Babbel is also a close competitor. You must follow all three of these apps so you can help ample practice in Spanish. Then you can use an app like Tandem to communicate with native speakers of the language. You can also use HiNative to further explore additional content. SpeakTribe is also an excellent app to learn Spanish. These apps should be enough for you to understand the basic vocabulary, grammar and comprehension in Spanish. With constant practice you can gain near native expertise in the language.