The music industry has changed significantly since the introduction of the first iPod and the iTunes Store. Most people download instead of buying from stores. Cassette and CD's have vanished from the markets and are termed as primitive technology. In less than a decade the world shifted from a hardware dependent retail music industry to an online marketplace centric subscription-based model. Users can now buy single tracks instead of having to pay for whole albums. You can store your music on cloud and synchronize among multiple devices with ease. Moreover, users can now subscribe to a monthly subscription and listen to any song from any corner of the world. Even without a subscription, users are subjected to only few seconds of advertisements. This has fundamentally changed the way we consume music and artists creates music for their target audience.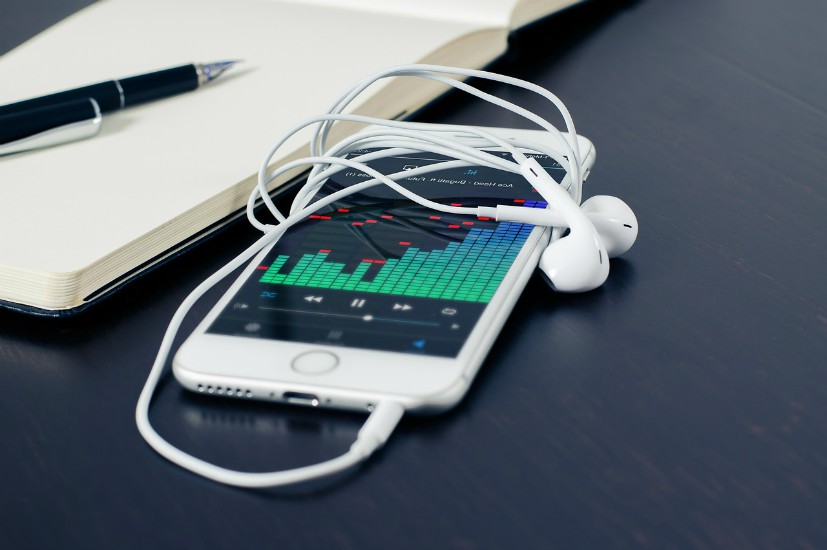 Android and iOS devices have further simplified the user's tasks. You can now find hundreds of music apps on the App Store and Play Store. Some help you stream music directly to your device and some others let you play tracks stored on your device. Most of the apps are paid but only a select few are worth buying. There are some free alternatives but most of them comes with ads that distract the experience. Here is a detailed review of some of the top music player apps of each type:
Top 5 Free and Ad-free Music Player Apps for Android
1. Musicolet Music Player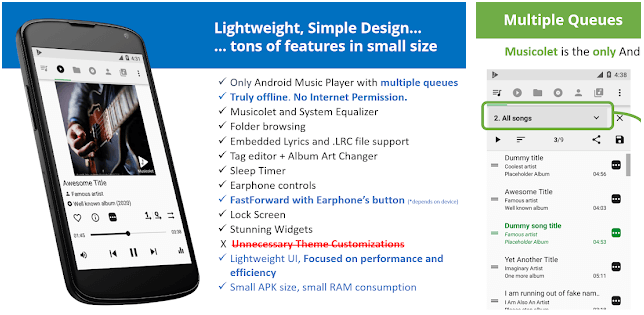 Musicolet is an excellent offline music player that doesn't require any internet connectivity at all. It doesn't show any ads and is free from any type of in-app purchases. It also doesn't support music streaming or radio services. Still it is one of the best music players with minimal features on the Play Store. This app is for users who have a great music library and want a distraction free listening experience.
A clean user interface further makes it one of the best designed apps. However, the app includes some unique features like multiple queues. You can manage and edit one queue while listening to a completely different queue of songs on the app. You can create and manage up to 20 queues simultaneously. The app lets you navigate to the major sections with only a single tap making it easy to move around. Besides, the app provides a handsfree option where you can control the playback with your earphone controls. There are many other features available in the app that make it the perfect app for all music lovers.
2. AIMP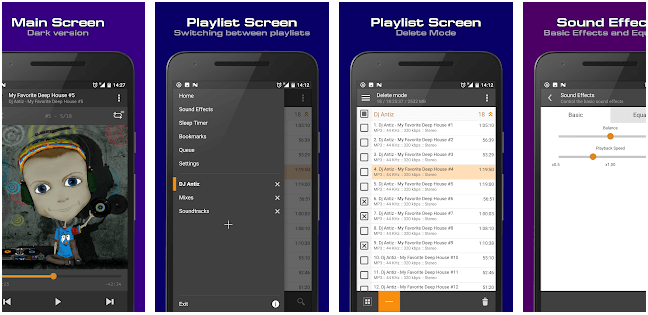 AIMP is a relatively old-school offline music player. Its desktop version was touted as the future and competitor of the widely popular Winamp music player. The Android app lacks a number of features that should have been a standard feature in all apps. It doesn't have an inbuilt file browser. It still follows a playlist-based approach to play music. You need to resume music every time if there are interruptions from other activities on device.
Yet the app also has some unique feature that make it a fan favorite. It has a clean interface ideal for all kinds of music playback. It supports nearly all kinds of music file formats which is quite hard for even the most popular apps on the Play Store. Moreover, the app has inbuilt internet radio, live streaming, bookmarks, control through headsets and interface themes.
3. Phonograph Music Player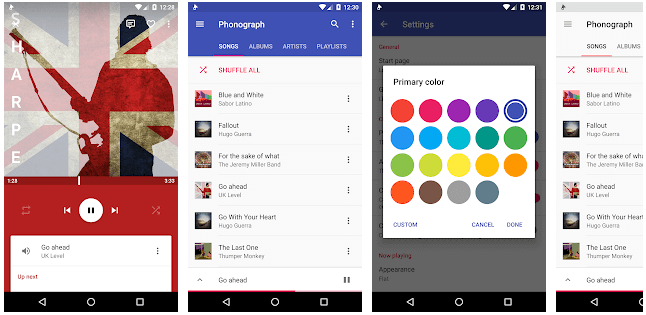 Phonograph is the perhaps the best designed free music player on the Play Store. It is built with Material Design principles and supports all android devices above version 4.3. Every section of the application embodies perfectly material design guidelines. Thus, the user experience of the application is seamless throughout playback. The familiar interface implements all necessary blocks and categorizations commonly found in most music player apps. The app is also integrated with Last.fm to stream radio. Moreover, the UI colors change dynamically to adapt with the content of the music and cover art. The inbuilt theme engine also allows you to modify the design. The app includes all necessary features of a music player and includes a robust Tag Editor.
4. Pulsar Music Player
Like the Phonograph Music Player, Pulsar is another wonderfully designed music player that is a fully-fledged music playing powerhouse in itself. It adds the basic features by allowing users to display lyrics, control gapless playback, crossfade across songs, tag editing, visualizers and equalizers. It also has ReplayGain with support for Chromecast. Along with the above, the music player also includes numerous enhancements like embedded lyrics display and support for Android Auto. It can efficiently serve as a perfect music player for all your needs. It also has Last.fm support allowing you to stream radio instantly. The app includes numerous widgets that are perfect for quick control of the application on your device home screen. You can also control the app through your earphone controls.
5. BlackPlayer Music Player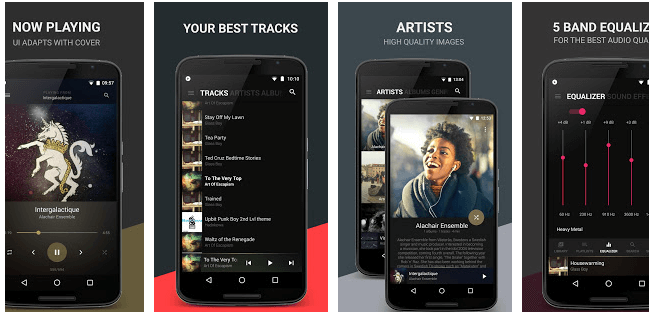 The BlackPlayer Music Player is another alternative mp3 music player. It also features a dark but intuitive user interface with all the necessary features built into the app. Moreover, it adds subtle improvements to the traditional design by allowing users to control music playback from the sidebar. It has an excellent visualizer that animates seamlessly with the dark design. You can modify the  colors of the sections but the default skin is far better than any changed ones. The free mp3 player app includes 3 widgets to quickly control the playback.
Top 5 Paid Music Player Apps for Android
1. Poweramp Music Player
Poweramp is an extremely powerful music player with a wide variety of features ranging from basic music playback to advanced tag editing and equalizer control. Its feature set is quite extensive considering the cost of the app. It has been a bestselling music player on the Play Store for years. Mp3 player supports gapless playback of nearly all possible music files including FLAC and AIFF formats. It includes a 10-band equalizer that supports extensive presets and also allows you to create custom presets. The app has a separate Bass and Treble adjustment feature that allows users to control them as per music playback. It also supports stereo expansion, mono mixing and balancing along with crossfade and ReplayGain.
You can add all your songs to the library and select them into queues for efficient playback. The app supports theming and offers 4 widgets that lets you control all aspects of the app from the device screen. The app offers a full featured 15-day trial to all its users and then users have to buy the Poweramp Full Version Unlocker app for the app to continue functioning.
2. MediaMonkey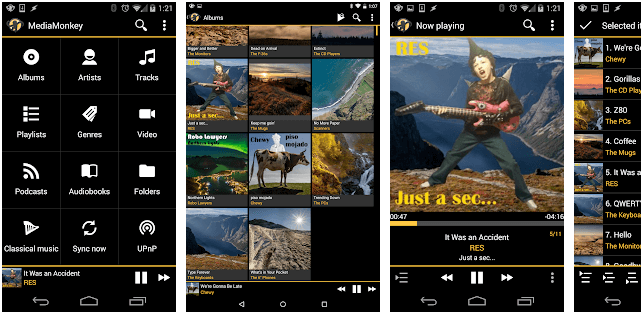 MediaMonkey for PC has constantly been one of the top music players in the industry. It has an extensive set of features that are available only in few other apps. Moreover, the paid version is full-fledged media center and supports nearly all possible feature available in large music and video players. The mobile version of the app is no less. It has extensive features and offers a free alternative to its pro version. The app is ideal for any kind of music playback. Along with music it also supports Audiobooks, Podcasts, Videos and many others.
Music player has an embedded file explorer that helps you navigate easily across your storage. The categorization options are also extensive and allows you to navigate through artists, albums, genres and playlists. The app also supports Google Cast and easy to pair with Android Auto. It also has widgets to simplify control along with a powerful search engine that can quickly search through large files for your tracks. The pro version provides WiFi sync as an added advantage that allows you to synchronize your library to your Windows PC through WiFi. The premium features are available as a trial basis on the free app only for 15 days. You can buy license to enable these features after 15 days.
3. PlayerPro Music Player
PlayerPro, like MediaMonkey is an extensive app built on top of excellent libraries. It is highly customizable and allows users to play nearly all types of media files. The free version of the app provides all premium features for free and starts showing ads after 10 days of usage. Considering the size of the player, it exhibits excellent performance and works flawlessly even on older smartphones. There is another app that is meant for older versions of Android named the PlayerPro Legacy. PlayerPro Legacy is often considered better than the advanced and upgraded version.
App allows you to select your tracks based on numerous categorizations that it reads directly from the media files. You can also play your videos directly from your folders. It has excellent support for Android Auto and syncs perfectly with other devices. The app also supports Chromecast Audio and your TV or entertainment system. You can change the interface with the available skins that are available as separate downloads. The app allows users to view and edit both tags and lyrics embedded into the media files.
The mp3 player app also has an excellent smart playlist feature that automatically scans your media to find closely related songs and creates a playlist. You can also use 2 lock screen widgets to control your music when your phone is locked. Plus, the app provides 5 home screen widgets to allow you to quickly interact with your music. It also comes with inbuilt support for Voice Assistants like Google Assistant.
4. jetAudio HD Music Player
jetAudio is another Android equivalent of the popular jetAudio music player for PC. The PC version is a high performance full-fledged music and video player that has been an industry standard for years. jetAudio for Android does not disappoint either. It has nearly all the features you can find in the desktop version and adds numerous features that are ideal for mobile devices. You can download the free version of the application and then upgrade to the paid version to get more advanced features. The free and the advanced versions are practically the same applications except the ads and additional features in the paid version.
In comparison to other players, jetAudio adds 32 equalizer presets that can play music from your WiFi network. It has a 20-band graphic visualizer that is ideal for all kinds of media. Moreover, it has 14 types of widgets that is the highest in any application. In addition to media playback, jetAudio can also play MIDI files which is ideal for music creators. The layout of the is flexible enough that you can modify with skins and options. Along with additional sound effects, crossfading and continuous playback, it is one of the most feature packed music players for android devices.
5. Neutron Music Player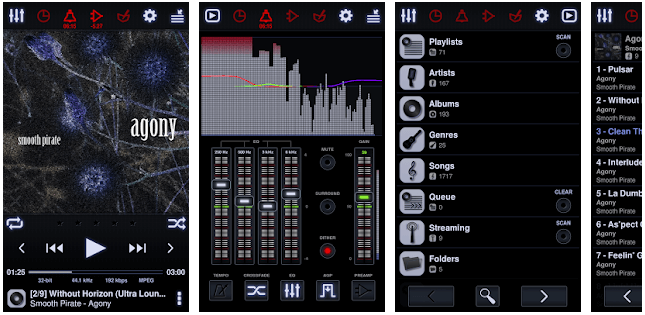 Neutron is the only music player for Android that can resemble an advanced configuration-based media player. It provides lots of options to choose from and has powerful 32/64-bit audio engine that delivers close-to-metal performance. The music player app can play large raw audio files meant for processing and produce crystal clear sound that is incomparable with other music players. Its target users are professional musicians who need to play and sample their music on their android devices. App has quite powerful engine and delivers perfect performance even on large music files. Its list of features is beyond normal music players and thus the app target professional musicians and creators. It is also the costliest music player on the Play Store.
Conclusion
Musicolet and Photograph are excellent music players that are free and have nearly all the basic features necessary for a good audio player. Both apps have beautiful designs and allow users to adapt the app as per their requirements. But if you're looking for advanced controls, presets and features then the premium features offered by the paid players should be enough.
Neutron is a professional grade music player that is ideal for all kinds of media playback. It has a vast array of options that lets you customize it to suit your playback requirements. Otherwise jetAudio and MediaMonkey are perfect alternatives. Mediamonkey has an added advantage that you can sync the app with its desktop version. There are hundreds of other mp3 players on the Play Store along with online streaming services like Google Music, Apple Music and radio or podcast players. But if you're looking for the best music players that offer offline playback from stored media, the above reviewed apps are perfect you.