Slow motion has been a unique method of capture in videos. Movie directors have used slow motion techniques to highlight and focus on scenes. The slow motion technique allows users to understand the importance of a scene. Plus, a scene in slow motion is often meant to grab the audience attention. But the technique has gradually found its way into nearly all aspects of video recording. Today slow-motion videos are common on major video sharing sites. Even social media has embraced the slow-motion technique for all kinds of promotions. Some mobile cameras support slow motion capture by default. This allows users to directly capture a scene and get it as a high quality slow motion video.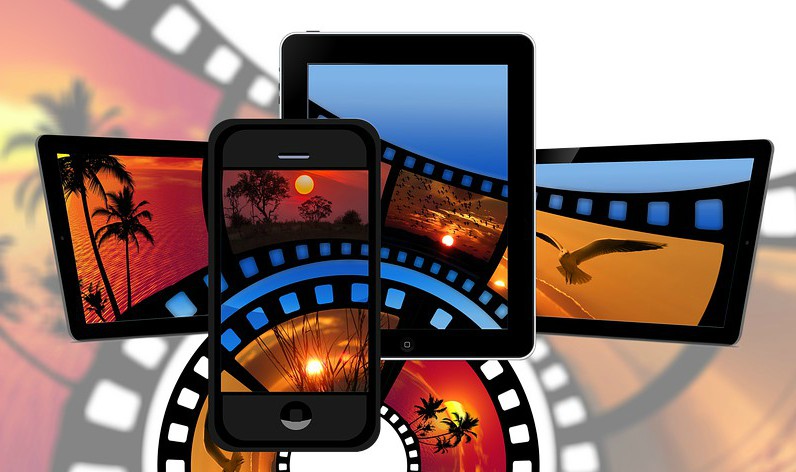 Slow motion techniques have also come handy in understanding complex actions. Coaches and athletes use slow motion capture to understand where to improve. The scientific community uses slow motion capture to visualize fast reactions. Anything that happens to too fast for human eyes to distinguish can be recorded and slowed down. Cameras and apps have been specially built for all kinds of devices to enable slow motion. Let's review some of the best slow-motion apps for android.
Top Slow-Motion Video Apps for Android
1. InShot
InShot is a powerful and socially built photo and video editor app for android. It has 4.7 ratings on the Google Play Store and was awarded the Editors Choice for video editing. It is free to use and has tons of features ideal for all kinds of video editing. You can use the app to blur backgrounds, add music, apply effects and do anything you can imagine with its editor. The interface is also quite intuitive and the app guides you all along your editing process.
The app is mainly used for editing videos and adding effects for social media and YouTube. All editing functionality is degradation free and allows you cut, combine, edit, split and compress your videos. The app has dozens of video effects that allow you to create movie grade editing. The video effects also include the ability to slow down or speed up sections of the video. This allows you to create slow motion or fast motion videos in seconds. You can also create slideshow of images or include your videos in the slides. This helps you create powerful animated videos for all kinds of social media use. It also supports all major export formats.
2. VivaVideo
VivaVideo is an alternative to InShot. It is often a preferred choice of social media video posters. VivaVideo app has been appreciated by a lot of magazines and bloggers. It has been downloaded the most times in more than 100 countries. The intuitive interface and powerful features make it a popular video editing app. It has an inbuilt slow-motion editing tool that allows users to turn videos into slow motion or fast motion. It has a storyboard editing mode that allows users to edit nearly each frame of the video. The inlays and lenses in the app are powerful enough to add any type of effect to the videos.
It supports photo editing, video background editing and lenses to focus on specifics. The app also includes a slideshow mode that you can use to create animations. The animations can include images and videos along with effects. The app also has templates to create collage and montages. VivaVideo app also includes powerful tools to create compelling storytelling experiences. The app has hundreds of stickers, special effects, subtitles, clips and filters. The company has built an effective social network around the app. This allows people to see videos created by other users. It is quite easy to share these videos social networks like Facebook and Instagram. Along with the above, the app includes all the necessary features of a basic video editor.
3. PowerDirector
PowerDirector is not a video recording app. It is yet the most powerful and feature rich video editing app for android. It was featured as the Play Store's Editor Choice. PowerDirector was initially launched as desktop app on Windows computer. The desktop app is one of the most powerful apps for video editing. It is easy to use and has nearly all necessary features for effective video editing. The mobile app also has all the features of the desktop app with helpful additions for mobiles. It has quite an intuitive user interface and allows users to easily navigate.
Turning a video into a slow-motion video is one among its hundreds of features. The normal videos recorded in your camera phone can be easily modified to create slow motion effects. The app also includes a slew of extra features like transitions and voice over video. You can also change the background of the video with chroma key. The app also supports blue and green screen effects so you can apply VFX effects in your videos. Also, the app allows you to share the videos in 720p, 1080p and 4K formats.
4. Videoshop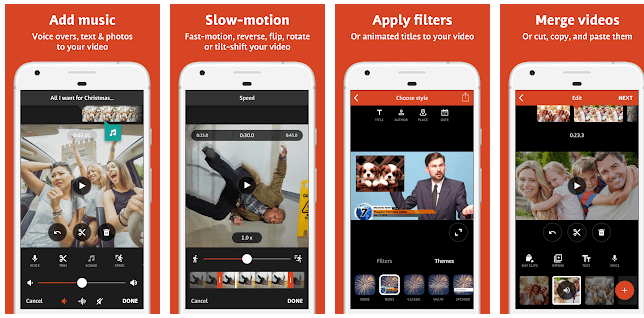 Videoshop is like PowerDirector. It adds some interesting new features used for social media. It has an excellent rating on the Play Store and is one of the best apps for video editing. Its intuitive interface allows users to build any kind of video. It helps in easy editing of recorded video through its optimized toolset. Once you have a recorded video, you can trim it to remove unwanted frames.
You can remove or add music in the video from your library. The app also has an online library of its own that you can use to find music effects. It also allows you to change the brightness, contrast or saturation. Along with that you can add your own text and fonts on the videos to annotate. It also has a library of animations that you can use before or after your video. The app has the feature to slow down frames and create a slow-motion video. This allows you to add focus and attention to your videos at specific points. It lacks a lot of advanced features but is ideal for social media apps.
5. AndroVid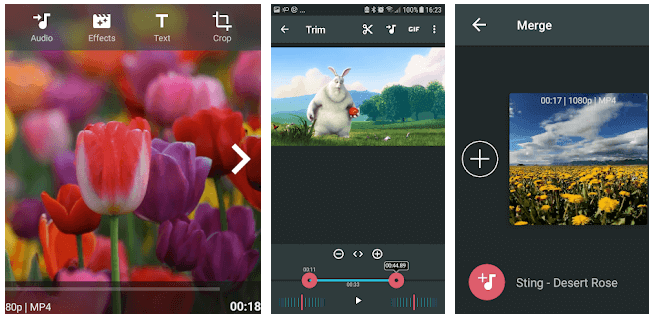 AndroVid is another powerful video editor ideal for social media video editing. It has some unique features that are available in many powerful desktop editing apps. But the app allows easy editing along with a wide range of export options. Along with a video trimmer, the app includes a video reverse feature. This allows you to reverse sections of the video. You can mix and match music from external sources but it lacks a library of its own.
The app allows you to create animated GIF's from your videos. Slow motion and fast motion editing is also enabled in the app and can be easily exported. You can change videos and create slideshows. The app can compress video files to reduce their sizes and quality. You can also convert the video into many formats. Moreover, the app allows you to grab a screenshot or frame at any point of the video playback. You can add text and animations to upload them on social media. There are many other features in the app that make it an ideal choice for simple video editing on your android device.
6. Coach's Eye
This is another unique application of slow motion technique. Coaches and athletes can use slow motion to understand their game better. Thus, Coach's Eye is an awesome platform for people where they can understand game technique through video recording. The app also has a pro version for athletes and coaches that provides tools and content management services. The basic app is however a perfect solution to create slow motion videos from recorded game play.
7. Hudl Technique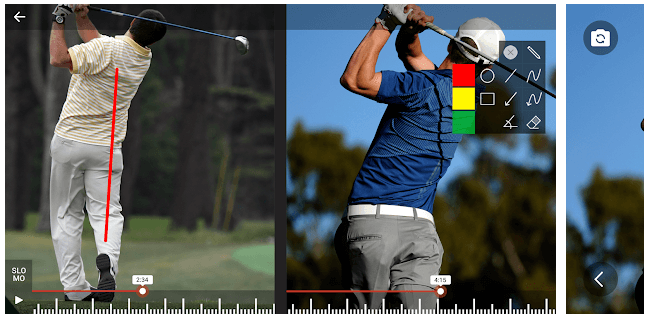 This is another sport focused application that focuses on the frame by frame analysis of gameplay. It is more popular among athletes than general public. It has the best controls and features to analyze each frame of the recording. Plus, the app provides useful drawing tools that help you draw on top of the videos. This allows you to understand and explain techniques easily. You can export the videos in all popular format. The app has a lot of similar features ideal for better understanding sports.
Conclusion
The above apps are some of the most powerful slow motion video editing apps on android. InShot and VivaVideo are ideal for social media video creation. Most of the videos on Instagram and other social networking websites are built using these apps. They have tons of features that make them ideal for all kinds of purposes. They also have powerful performance focused engines that can render videos in multiple formats. PowerDirector app is like its PC counterpart. It provides professional video editing and thus is ideal for all kinds of edits necessary to create high quality videos. It is also ideal for creating slow motion videos. The last two apps are built for sports. They are mainly used by athletes to watch their gameplay in slow motion. They are highly professional and are used for research purposes.