Audiobooks like music dive us into another universe regardless of circumstance. We have come a long way since the days of the records and CD's that required bulky players. Companies like Amazon and organizations like Librivox have democratized the online audiobook market. Now you can devour your favorite classics on Librivox for free. The latest releases are immediately available on Audible. Moreover, audiobooks apps on your phone put your favorite books at your fingertips.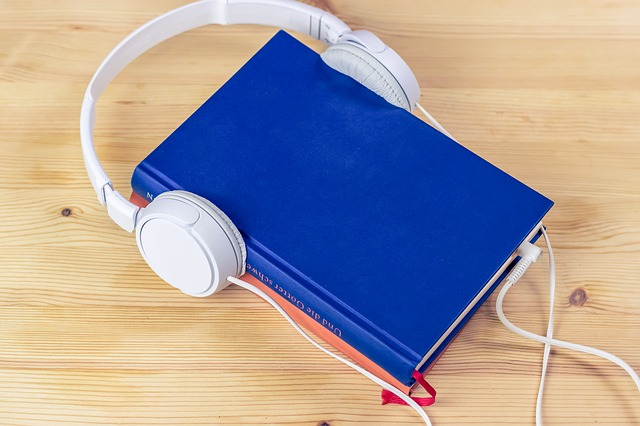 Characteristics of An Ideal Audiobook App
Audiobook unlike music players need a lot of features that allow users to navigate through long and bulky audio files spanning hours. Along with interface customization and control of the audio file, the app also should be able to manage playback quality.
Audiobooks rarely have any background music to enhance listening experience. Therefore, the quality of narration heavily depends on the audio players processing ability. Ensuring a soothing listening experience on freely available audiobooks from Librivox is quite a challenge. Very few audiobook apps are able to maintain the quality of the audio while enhancing narration quality. Here are a few of the top audiobook apps for android that can help you explore and enjoy your audiobooks on your device.
Best Android Audiobooks Apps
1. Audible
Audible from Amazon is the audiobooks market leader with more than 150,000 titles. It also features original audio series and shows along with audiobooks. It complements the books on Kindle Store with their audiobook alternatives.
A strong ecosystem around books and authors helps customers find relevant recommendations. Intelligent algorithms further enhance user experience with its Kindle devices and complementary apps. Its intuitive interface along with its subscription service is better than the alternatives.
Its ad-free interface with high quality audio allows you to play your books offline. Moreover, you can exchange a book for free anytime. All bought audiobooks are available to you even when you cancel your subscription.
Amazon's Wishpersync technology further helps you switch between your ebook and audiobook with one tap. Seamless integration with Alexa allows easy audiobook playback from Amazon Echo, Echo Dot and Tap. You can try Audible for 30 days with one free audiobook and its subscription costs only $14.95/month
2. Google Play Books
Google's Play Books is a direct competitor to Amazon with a huge library of ebooks and audiobooks. With a growing library of ebooks and audiobooks, Google aims to grab a market share for itself in the audiobook industry.
Its integration with Google Play which also has its Newsstand, Play Music and Play Movies apps, helps users find relevant titles at one place. Unlike Amazon, Google offers a single app for both ebooks and audiobooks. This has led to a renewed interest among users in its target market.
Play Books now competes head-on with support for notes that get synced to Goggle Drive and the complete Google ecosystem.
The app's feature to skip ahead or snooze along with a timeline to scroll makes it one of the best audiobook apps on the Play Store.
Unlike Amazon, Google runs a marketplace where users can preview the audiobooks before they buy. Google's Read Aloud feature replaces Wishpersync technology. Google aims to produce realistic computer-generated voice for Read Aloud that improves by the day.
3. Audio Books by Audiobooks.com
Audiobook.com's Audio Books app is another contender to the throne with some unique features. It aims to provide a unified listening experience to compete with Amazon and Google;s ecosystem and technology.
Its cross-device synchronization is a unique feature that helps users resume on one device from where they left off on another. Although this is possible with Audible and Play Books, the Audio Books app makes it effortless for the users. Moreover, it integrates podcasts with its audiobooks library. This eliminates the need to manage your podcasts on another app.
The app also includes extra content for readers of all categories apart from the ebook titles. Its easy to use interface along with clutter free design often attracts users. Unlike Amazon and Google, it also lacks in audiobook production as users have often complained about the narrators. Like Amazon, Audio Books also has a subscription service priced at $14.95/month with the first 30 days as a free trial and one free audiobook to get you started.
4. Kobo Books
Rakuten's Kobo was among the first Audiobook companies like Audible. It competed head-on with Amazon for dominance over the ebook market. Amazon grew due to its superior server infrastructure while Kobo Books market share started declining along with Nook and other companies.
But, Kobo is still one of the top ebook and audiobook companies with high quality audiobooks and a dedicated user base that loves its content. It focuses on certain market segments and has built excellent apps for all mobile devices. It has over 5 million ebooks and hundreds of thousands of audiobooks. Like Google, Kobo also serves both ebooks and audiobooks through a single app.
The audiobook player is intuitive and allows users to move around in single taps. The app's flexibility allows users to adapt it to their own style of reading and listening.
It has a strong recommendation engine and supports cross device synchronization. Along with the Kobo eReaders, it aims to build a community driven marketplace. Like Audiobooks.com, Kobo also integrates the free ebooks from Gutenberg.org and Audiobooks from Librivox to increase recommendations for its users.
5. Libby
Libby by Overdrive is an excellent alternative to the traditional ebook marketplaces. The app allows you to borrow books from your local library if you have a library card. All you have to do is scan your library card and you get access to all ebooks, magazines and audiobooks in your library.
It has an intuitive reading interface and an excellent audiobook player. It is among the best reading apps on Google Play and has immense customization options that help the readers change the interface to suit their needs. Its tagging ability brings Goodreads like tag features to your book shelf.
The most strong feature of the app is its ability to send your ebooks and audiobooks to Kindle. It delivers a seamless experience with shelf-based categorization and features to bookmark and take notes that are synchronized to all devices. The app is built as an alternative to the Overdrive app which in itself has grown.
6. Scribd
Scribd has grown from a document aggregator to a one-stop destination for all kinds of ebooks, audiobooks, magazines, comics and everything else you can think of. Its app is intuitive considering the types of content it offers.
It is also one of the best reading apps with a lot of customization features along with an embedded audiobook player. The ebook reader can also help you zoom in and out of graphics heavy content with the least effort. Its recommendation engine along with a strong community support help it grow. You can also find the latest magazines from the top publishers in the industry.
Scribd has the largest document library and all its content is available on the app. Thus, the app is designed more like a news app than a ebook app. You can find any kind of document along with ebooks, government reports, scientific studies, dissertations and the likes. The subscription costs only $8.99/month.
7. Librivox
Like Wikipedia, Librivox has grown over the years due to the active submission of its community members. It offers more than 24,000 titles for free. Although the narration quality varies across the library, the app towers above others due to its huge library of free content. Like other audiobook players, its interface also offers all the basic features but the app itself looks a bit outdated.
The app doesn't have a marketplace service or any type of paid content. But, you can find most of the books on Project Gutenberg and the Internet Archive. The lack of a legal personality or a budget affects the quality of its offering. More than 90% of its recording is in English but you can find audiobooks in more than 31 languages. As all audiobooks on Librivox is free of copyright, you can find most of the common books and classics on other audiobook apps.
Conclusion
Audible and Google Play Books are the only apps that can deliver a superior experience. If your preference in audiobooks is limited then huge marketplace by Google is ideal for you. You can only buy the titles you need instead of subscribing to a monthly plan. But if you're an avid listener and often use audiobooks as an alternative to ebooks and hard bound books then Audible should be your ideal choice. You get access to thousands of high quality audiobooks at your disposal with a monthly subscription. You can also exchange any book anytime you like depending on your preferences.
The other apps are also better considering your use case. The Audio Books app by Audiobooks.com is perfect for you if you're also an avid podcast listener and are looking to change to a unified podcast and audiobook player. Librivox is your final option if you're looking to get a free alternative to other applications.