Alarm clocks have come a long way since the days of the mechanical watches. Smartphones and wearable devices have now made alarms as personal as possible. Effective methods of keeping us engaged after we wake up to an alarm has made the apps famous.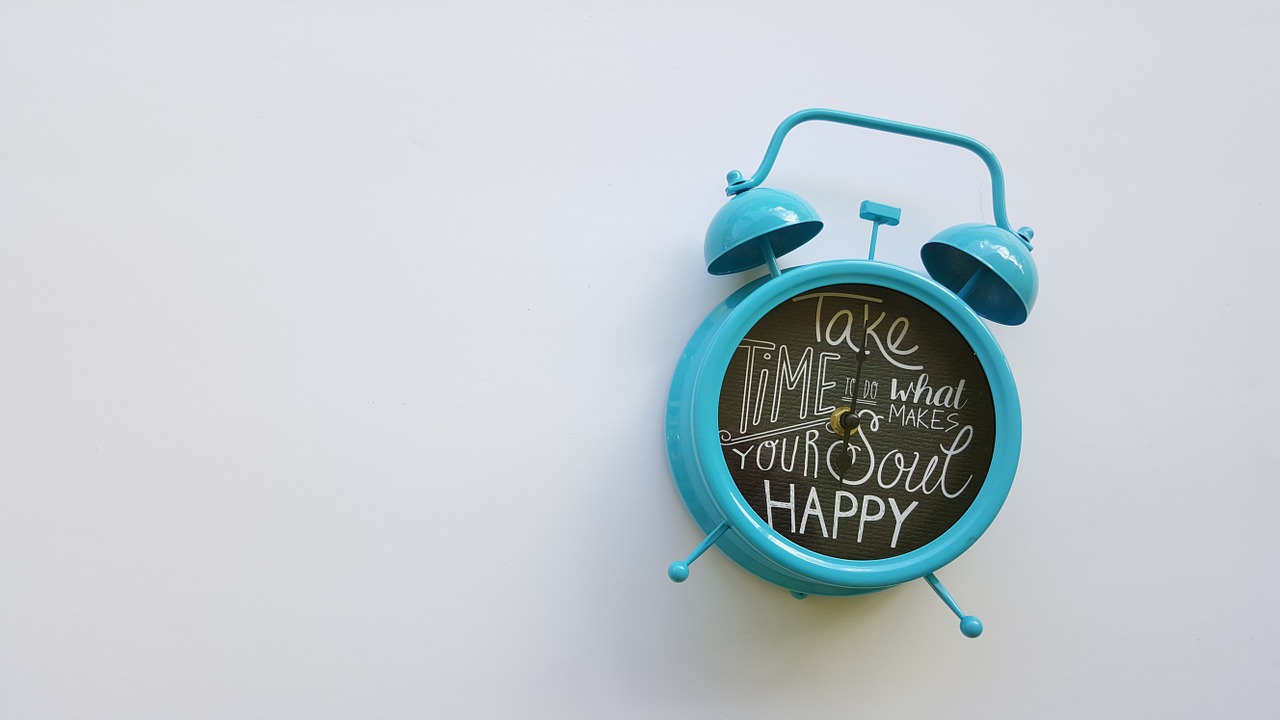 The good alarm clock apps ensure that you remain awake until your sleep wanes away. Even when you're a deep sleeper or tend to get back to bed after switching off the alarm. The apps have helped millions stay on time with clean UI and unparalleled customization. Some alarm clock apps have also helped form effective habits and helped break bad ones with continuous effort. Let's review the best alarm clock apps for android.
The Top Alarm Clock Apps for Android
1. Alarmy (Sleep If U Can) – Mission Alarm Clock App
Alarmy is used by millions to get up early in the morning. It's not because it is the default app but because it is truly the most annoying alarm app ever in the android store. The app has everything you can imagine to get up on your feet. In fact, the app can make you run if that's what it takes to wake you up. It has constantly featured as the top alarm app for more than 97 countries. It was also the editor's choice for alarm apps.
The missions in the app makes it extremely effective. It has different modes by which you can switch off the alarm. The app has a picture mode where you will have to take the picture of a certain pre-selected object to stop the alarm. It has a puzzle mode where you have to solve the puzzle the moment you wake up to stop the alarm.
It also has a Math mode where you have to solve math problems to stop the alarm. The shake mode is often the preferred choice for fitness enthusiasts. You have to shake the phone a predefined number of times to stop the alarm.
The app also has dozens of loud ringtones that stretch the limits of your speaker. Often people tend to disable the alarm challenges when they wake up. Sometimes people also try to switch off the device to escape from waking up. The app can prevent these mischiefs by restricting access to the smartphone. Thus, Alarmy is hands down the best android alarm app for all kinds of android devices.
2. AlarmMon – Free Alarm Clock
Alarmmon is an excellent alternative to Alarmy.  This app also has challenge-based tasks that you need to complete to switch off the alarms. It was also selected as the Editors Choice and has excellent features like Alarmy. The most unique feature in the app is that it will keep ringing until the battery drains. Unfortunately, there is nothing the app can do about it.
It has loud, annoying, video and voice-based alarm for all kinds of choices. It is highly customizable and helps you change the UI and functionality. The app also functions like a Celebrity alarm. Thus, you can configure any of the predefined celebrities in the app to wake you up in the morning. The app also has inbuilt games that you have play and complete before the alarm stops.
Moreover, the app is also perfect for all kinds of tiny tasks. For example, you can use the app to remind you of your tasks throughout the day. It also has the functionality to notify you through an alarm of the latest news stories and weather.
3. Early Bird Alarm Clock
Early Bird Alarm Clock is a simple but heavily configurable alarm app. It has only the necessary features to wake you up. The app has many themes so you can customize the look as per your choice. It supports shift working schedules to help you manage your alarm schedules.
You can configure your alarm based on your precise schedule and time of day. This allows perfect automation of your lifestyle without making app repetitive. The non-repetitive nature helps you wake up every day to a new alarm tone.
Like other alarm apps, it also has loud alarm tones. Like Alarmy, the app also helps you configure tasks to switch off the alarm. It can scan a QR code, recognize your voice and make you trace and write after you wake up. This helps you focus on some tasks and keeps you awake for a longer period. The app is designed as a minimal app but has all necessary features. It can notify you of the day's events and the weather the moment you wake up. It can also say the current time when the alarm is ringing. This is the perfect app for you if you're looking for a minimal alarm clock app and basic features.
4. Good Morning Alarm Clock
Good Morning Alarm Clock is the most intelligent alarm app on the app store. It uses all available sensors to watch your sleep patterns and wakes you up when your sleep is lightest. This alarm app finds the optimal time to wake you up from sensor data and informs you about your sleep cycle. It can detect all kinds of sleeping habits and is an effective way to improve your sleep.
The app requires you to keep your android device as close to you as possible. This allows the device sensors to detect your sleep patterns and wake you up. The analysis provided by the app helps you determine the quality of your sleep and the number of hours slept.
Unlike other apps, this app has gentle and energetic alarm tunes to help you wake up energized. You can also create your own playlists of your favorite songs so you can wake up listening to your favorite music. You can also use the app like a simple bedside clock with an alarm if you don't want to track your sleep statistics. Moreover, the app also provides you weather information to help you plan your day ahead.
5. Sleep as Android – Sleep Cycle Tracker, Smart Alarm
Sleep as Android is another intelligent alarm clock app with sleep tracking. It supports all wearable devices and synchronizes all data across many devices. It tracks your sleep cycle by collecting information from your wearables and phone. You can review your sleep information and improve your sleep.
The app has a minimal design and functions as a mix of Alarmy and a Smart Alarm. The app has a unique feature where it can track your sleep cycle even when the device is not on your bed. It integrates perfectly with Google Fit and helps other apps to use your sleep data. The app integrates with Phillips HUE and helps you control your bulbs through IFTTT.
It tracks many variables of your sleep and provides a comprehensive summary. It collects snoring, irregularity, efficiency, deficit and duration of your sleep. These metrics form your sleep score that determines the quality of your sleep. The app also has natural sounds and lullabies that help you fall asleep quickly. Like other alarm apps, it supports challenge-based wake up techniques. This forces you to complete a task before you can shut down the alarm. The app was also featured as Editor's Choice.
6. Puzzle Alarm Clock
This is another unique alarm app that focuses on puzzles as challenges. Users will have to solve complex puzzles to switch off the alarms. All puzzles in the app are brain teasers that tests your focus. This helps you wake up and forms a habit of problem solving.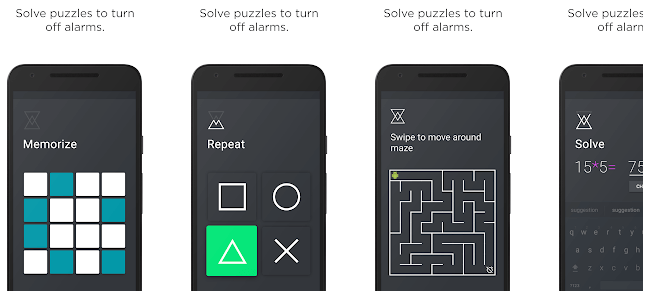 The puzzles available are basic ones and you can also buy mini games that have to be solved before the app can stop the alarm. The app also has a poke feature that lets you prove that you're awake or else leading the app to go off again. You can add a snooze limit and when you've used them all you have to face the alarm. The app has a clean interface to help you focus easily. You can customize the alarms to your own tunes and setup multiple alarms.
7. AMdroid Smart Alarm Clock – Alarm Clock for Heavy Sleepers
AMdroid Smart alarm is another effective android alarm clock. It has the all the necessary features like the above-mentioned alarm apps. It has a minimal design and focuses on waking you up naturally instead of making you fight loud alarms.
Users can configure many types of alarms based on repetition and countdowns. Each alarm can be configured to function differently than the others. You can use challenges like Alarmy but AMDroid supports NFC and Wifi networks. You can restrict your alarms to locations and integrate it with your calendar apps. It integrates with wearables and tracks your sleep patterns. You can also configure weekly and monthly work schedules-based alarms.
Conclusion
All the above apps are excellent in their own way. They have all necessary features for heavy sleepers and are also ideal for light sleepers. You can configure your devices and wearables to track your sleep patterns. Alarmy is perhaps the most feature rich alarm app that you can deploy in any situation. Other apps like Sleep as Android and AMDroid help you track and understand your sleep patterns while providing features similar to Alarmy. You can find numerous other apps on the Play Store but these apps are the among the best. Choose one that you like and you'll never be able to oversleep.