Smartphone cameras are now the equivalents of DSLR cameras. Smartphones can now capture anything you like with advanced lenses. They allow users to capture any type of photo or video. Some artists are taking the devices a notch further by capturing award winning frames. The rise of photo sharing apps like Instagram have created a separate market segment. This market segment solely caters to video creators and photographers. The provide filters and effects that were only available to professionals. Even post editing and post production is exempted in some cases due to the quality of the frames.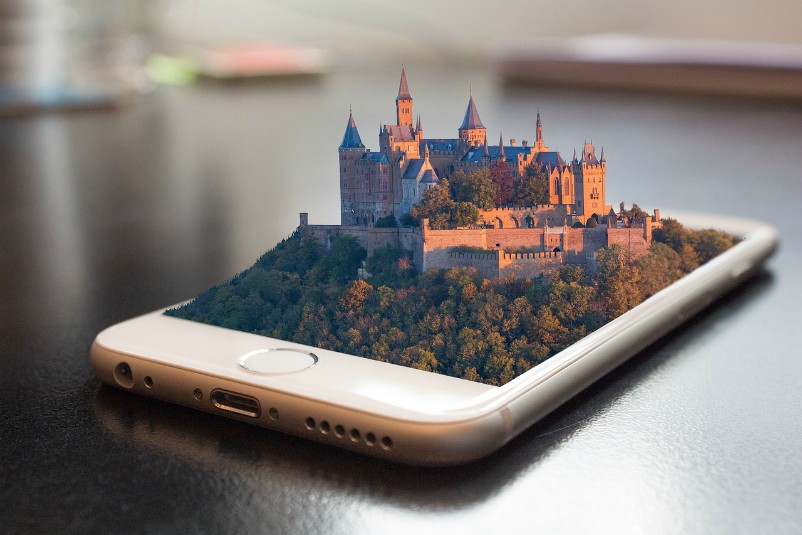 But capturing 3D images is a completely different case. 3D capture requires sophisticated and multiple cameras that capture simultaneously. Thus, replicating the technology in mobile devices is quite difficult. But developers have come up with innovative solutions to solve the problem. There are a few apps in the Play Store that can capture an object in 3D through spatial geometry. Some other apps enhance the captured photo to make it look like it is produced in 3D. 360 degree and panoramic images are again another field of study. Nearly all cameras provide the option to capture panoramic images. Let's understand what types of 3D images are possible before we review the 3D camera apps.
Types Of 3D Camera Apps
3D capture by definition is the capturing of images in a 3-dimensional space. But many scenarios are possible when capturing images in 3D. The first and the simplest case is the Panoramic view. A panoramic image is a continuous image taken from a single point. It is much wider than the average image sizes. It is generally built by merging images based on the continuous camera movement. Thus, nearly all camera apps now provide the panoramic option.
The second case is the one we experience using 3D glasses. The relative positioning of pixels in a image can have a huge effect on how we perceive an image. Taking into account the distance between our two eyes, the 3D glasses focus the light from the pixels. This focused light lets our 2 eyes see the same object in multiple frames. The near visibility of the frames makes us feel like the image is in 3D.
Capturing these types of images has been quite difficult. But apps have been able to distinguish the general spatial difference. This has led to an efficient rendering of the image in 3D form that gives an ethereal experience.
The third and the most sophisticated case is capturing an object in all possible dimensions. For example, a true 3D image is one where you can see every object in the image from all possible directions. This has been quite difficult to produce even on large scale camera systems. The street view in Google and the Ikea augmented reality app are the perfect examples. You can easily position, move or change the products in the IKEA AR app. Although it doesn't capture any photos, the objects in the augmented reality app are all in true 3D.
Capturing such 3D models of objects in images has been a challenge for both developers and manufacturers. The technology has been so primitive that objects have to be manually scanned by cameras to produce 3D models. These 3D models are then imported into professional programs to edit and render. Some advancements in this field has been possible due to AR and VR. But capturing 3D images on smartphones still has a long way to go.
The most common use of the term 3D camera app is for panoramic apps. These are normal camera apps that allow better panorama capture. Multiple images are stitched back to back and built seamlessly to give a 3D appearance. Users can rarely notice the difference between a normal panorama and an image captured in such apps. Using image filter and straightening techniques commonly used by professionals, the apps allow users to view an image in multiple directions based on camera movement. But there are some true 3D camera apps on Google Play Store too. Let's review the popular apps in both the categories.
Best Panoramic 360 Camera Android Apps
1. Fyuse
Fyuse is the only app commonly used by people that uses spatial photography to capture and merge photos. This creates a seamless looking 3D image that is barely different from true 3D models. The images however can only be oriented in the direction they were clicked. It's because the images are merged using the same sequence. Any alternative direction cannot be rendered by the images.
The app is perfect for amateur photographers and selfie enthusiasts. The app greatly depends on the movement of the camera. Thus, you have to move the camera around the person or object while capturing the panoramic image. The app then processes the images to form a 3D looking image. You can also view each of the images that make up the final 3D image. Thus, you can remove and edit any frame if you like to modify the image to suit your needs. The app generates images as GIF's. You can share the images on your social media.
2. Panorama 360
Unlike other panorama camera apps that claim to create 3D images, Panorama 360 creates exactly what it claims. It is a perfect panorama capture app that captures images in 360 degrees. These images can be shared on social media or viewed with any 3D viewer. Most image apps can also view the panorama images in perfect synchronicity. To capture an image in Panorama 360 you have to start the capture and move your camera from left to right. The camera automatically captures all the frames and merges them together to create a single large panoramic view. The app also supports HD panoramas if your device allows HD capture.
3. Camarada
Camarada was a Kickstarter campaign that raised twice its required amount. The app uses a synchronization technique that closely resembles large scale 3D capture cameras. Unlike other apps that try to scan an object with a single camera, Camarada synchronizes 2 mobile phones to capture a moment simultaneously. This ensures that that the image is perfectly aligned with the user's eyesight. Thus, the image gives an illusion of a 3D capture that can be viewed perfectly with 3D glasses.
The app supports VR rendering and can also be experienced in normal red-cyan goggles. The app works with both single and double phone modes. If you're capturing using a single device, the app has to process the images to make them ready for VR or 3D image like quality. This is not so effective but works well when you don't have access to more than one device. The dual phone mode is however the best option. It captures the images in 2 phones, synchronizes them to give an immersive experience by turning them into 3D images. They are the closest you can get to capturing 3D images on your mobile device. You can use app to record video of any length and synchronize media to cloud. It is heavily tested in multiple devices of all ranges and is therefore one of the best performing apps.
4. Phereo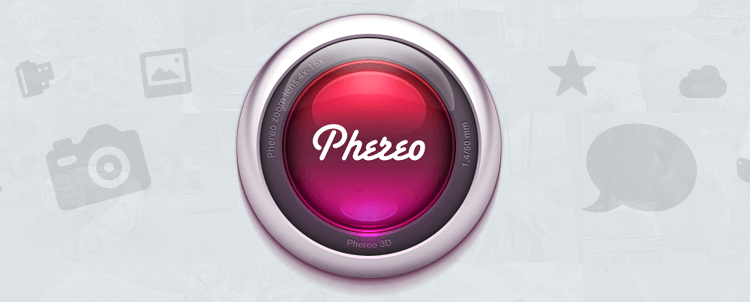 Phereo 3D photo is an alternative to Camarada and performs just as well. It has a community of users who love the app and have used it to capture awesome 3D content. You can capture 3D images just like any other camera app and then share them in the app or through other apps. The app works seamlessly on all devices but recommends using 5 specific devices that support 3D stereo. This 3D stereo is method of capturing images with the phone camera such that the images resemble 3D images. The media can then be easily viewed on most devices or with 3D glasses. If your devices don't support stereo mode, you can view the 3D images in Anaglyph, wiggle or side-by-side modes. All images are of high quality and can be easily shared among other apps and platforms.
5. 3D Camera
The 3D Camera app like the Phereo app captures stereo 3D photos that are then processed to form 3D images. Just like in Phereo, the 3D Camera works perfectly with or without 3D glasses. You can control the image quality and modify the stereo camera captures. The app produces animated images that look like 3D images captured by moving the camera around an object or scene. This helps the camera capture and render multiple images that can be easily merged into one single GIF or video file. You can export video file as GIF and share it on social media or other mediums. The app also allows you to crop your images. You can also tune your images and apply filters to them as per your requirements after shooting images.
Best Photogrammetry 3D Camera Android Apps
1. SCANN3D
Scann3D is among the handful of apps on the Google Play Store and the iOS app store that can capture 3D models of objects on your mobile devices. It is still an experimental technology as the app uses photogrammetry technology. The technique analyzes hundreds of images captured by the camera and isolates the target object. Thus it is often hard to capture multiple objects at once in the app. The app then refine and measure target object through algorithms to ensure that it is a perfect model. This model is then ready for viewing.
This ensures that a true 3D image of an object is captured from all possible directions. Thus, you can flip and view the object and still get a consistent rendering of the model. You can export the model in commonly used formats. You can also use the models in augmented reality and virtual reality environments. Unlike other apps, Scann3D is a very resource intensive application as it has to compute exponentially on a mobile device to generate 3D models of an object.
2. 3D Creator
Developed by Sony, this 3D Creator app is perhaps the most accurate description of a 3D image capture on your phone. It is not just accurate but also performs flawlessly for all kinds of objects. It can capture capture facial expressions and is thus extremely fluid in managing mobile resources while computing to create 3D models. However, the app is not completely compatible with other devices and shows numerous problems with unsupported devices. Sony launched this app on its flagship device Xperia XZ1 and performs above par in comparison to other apps. Reviewers have claimed that the app works even better than some large-scale 3D scanning devices. All 3D media captured by the app is available for use in other apps and as objects for AR and VR environments.
Conclusion
Imaging technology has come a long way since the early days of film. However, it still has miles to go before we can experience true 3D captured images and media in readily available mediums. Large companies and many e-commerce companies still use multiple cameras to scan 3d models of products. These systems are not only bulky and expensive to use, their output 3D models also require extensive applications and renderers to be viewed. Thus, 3D movies are the closest we have been able to produce by tricking the eyes into seeing the same objects in multiple directions.
Thus, 3D cameras now have to make do with processed panoramic images and low-quality scanning of objects to render 3D models.
Fyuse is a perfect app for all kinds of social media captures. It can export to GIF's that can be easily shared on all social platforms. You can also view the images in 3D viewers that work like tiny video players. These tiny video players move the images backward and forward like in a movie to give the appearance of 3D movement. Panorama 360 is an awesome application for all kinds of 3 dimensional panoramic needs. If you're looking for 3D models of objects, then Scann3D and 3D creator are the perfect apps. They can not only create 3D models but can also export them to multiple formats so you can modify them and even get them 3D printed if you like.