Android Multi-Tools is small desktop based software utility tool to hard reset or unlock any Android smartphone. It can also remove pin or pattern lock of mobile phone. It is easy to download and use on Windows computer. You can also wipe all user data like apps, media files, contacts etc and cache on mobile phone without unlocking phone (in case you forget password or unlock pattern). It is very powerful tool. Get download link and user manual on this article.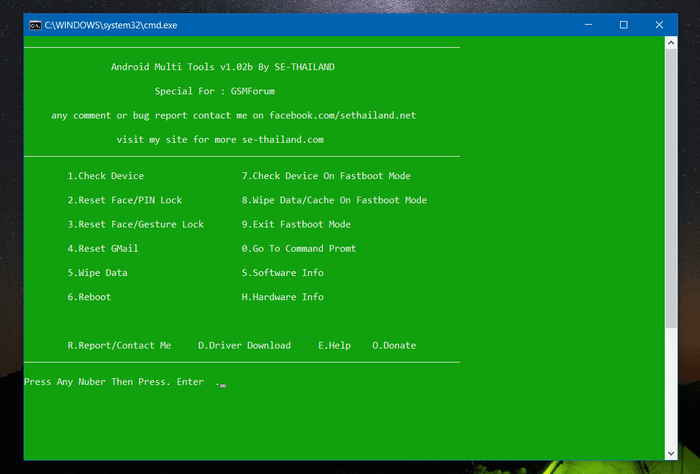 Main Android Multi Tools Features
Check Device
Reset PIN or Face Lock
Reset Gesture or Face Lock
Reset GMail account
Wipe Data on mobile phone
Reboot Android smartphone
Check device on fastboot mode
Software information of mobile phone
Hardware information of mobile phone
Check device in fastboot mode
Wipe Data/Cache on fastboot mode
System Requirements
Desktop computer / laptop with Windows 7 or Windows 10
4 GB RAM
1 GB Space on hard disk
Internet connection
USB Port
USB cable to connect to mobile
Android Multi Tools Installation
There is no installation for software. Just download zipped file and unzip it and run it.
Android Multi Tools Software Options
1. Check Device – This option checks connectivity of mobile device to computer. Whether software can access Android smartphone.
2. Reset Face or PIN Lock – Use this option to safely reset face or pin lock of mobile phone.
3. Reset Face or Gesture Lock – Use this option to safely reset face or gesture lock of mobile phone. Your phone will not have any lock after this.
4. Reset GMail – This option will remove Gmail from mobile device.
5. Wipe Data – This option deletes all the user generated data like apps, app settings, media files like images, videos, audios on mobile device.
6. Reboot – As name suggests, this option rebboots mobile.
7. Check Device on Fastboot Mode – This option checks whether mobile phone is in fastboot mode.
8. Wipe Data or Cache on Fastboot Mode – It is same as option 5 but in fastboot mode.
9. Exit Fastboot Mode – This options makes device to exit from fastboot mode.
0. Go To Command – This option is for more advanced users. It lets you enter command prompt where you can use advanced command to debug or troubleshoot.
S. Software Info – This option displays various software info of mobile like Android OS version, release number, build number, security release etc.
H. Hardware Info – This option displays various hardware info like RAM, disk space, processor, IMEI, mac address, camera etc.
R. Report or Contact Me – Contact software developer for any issues with tool. Or report any bug.
D. Driver Download – This option downloads latest drivers on computer.
E. Help – This option opens up detailed user manual.
O. Donate – If you find Android tools helpful, you can donate to developer.
Reset Face or Pin Lock with Android Multi Tools
If you do not remember lock or mobile does not unlock with face, you can reset face or pin lock using Android tools. Start latest free version Android Multi Tools, connect phone to computer and pressing 2 will remove pin or face lock.
Wipe Data with Android Multi Tools
This is easiest way to wipe all data on mobile phone. Connect mobile phone to computer using usb cable and pressing 5 will remove all user data like media files, apps, contact etc.
Download Latest Free Android Multi Tools
Unfortunately latest version of Android does not work with Android Multi Tools. Android Multi Tools stopped working after Google blocked access to internal api in Android Version 4.
But there are other unlock software tools and driver that are better than Android Multi Tools. You can download this tool to completely unlock and manage mobile device.
More about Android Multi Tools
Fast and easy to use, just hold your phone in your left hand while pressing down a multi-tools button on the other hand. To unlock you just have to spin your phone and if it is unlocked click to unlock. To remove lock-screen you just have to touch the lock-screen with multi-tools software on the other hand. You can now easily use multi tools to delete or enable and disable lock-screen pattern or pin-lock.