Update Motorola Atrix 4G to Android 4.1.1 Jelly Bean
In this article we will tell you how to update motorola atrix 4G to android 4.1.1 jelly bean. Here's the procedure.
In this tutorial we will guide you step-by-step on upgrading your Motorola Atrix 4G Android based smartphone to 4.1.1 Jeally Bean official update.
The official Android version of 4.1.1 Jelly Bean from Google does not get supported by Motorola Atrix 4G smartphones. However, many tech-lovers just want to see Android 4.1.1 Jelly Bean on their Motorola Atrix 4G smart phones. Hence, those Motorola Atrix 4G users who are fancy to upgrade their smartphones with Android 4.1.1 Jelly Bean OS can do so by manually installing CyanogenMod 10. CyanogenMod 10 Android v4.1.1 Jelly Bean provides an immense exhilaration to those Motorola Atrix 4G users desiring to enjoy the features of Jelly Bean 4.1.1 ROM.
CyanogenMod, also known as simply CM, is undoubtedly the most greatly acknowledged unauthorized Android firmware, and day-by-day they are increasing their compatibility with numerous old and freshly arriving Android devices from different manufacturers., including our Motorola Atrix 4G. Many reviews show that CyanogenMod provides much more facilities than the official Android firmware. Installing CyanogenMod 10 Android 4.1.1 Jelly Bean on your Motorola Atrix 4G will enable its user to sustain in the 4.1.1 Jelly Bean environment.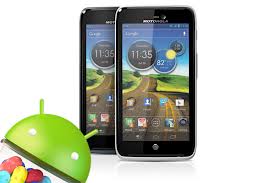 So now we will are showing you an installation guide regarding using CyanogenMod 10 Jelly Bean 4.1.1 ROM on Motorola Atrix 4G. Just follow the simple steps given below
Disclaimer
This tutorial will definitely work when using Motorola Atrix 4G only. While working of it on others is not yet confirmed. On applying this installation to another model or device may give an unwanted result. While applying this update we will not be responsible if anything occurs to your device, so continue at your own risk.
Pre-Requisite
For successful completion of this rooting process charge your phone up to a minimum of 75% battery.
You must take a back-up of all your personnel items and other impotent data, such as Call Logs, SMS, Contacts, Audios, Images, Videos, APN (Access Point Names) settings, Bookmarks, MMS settings, on your phone.
One must install a custom recovery image particularly for his Android device. To do this, ClockworkMod Recovery should be downloaded using the Internet.
If you have not, then you must unlock your Android device's Bootloader. But due to unlocking of Bootloader, your Android device may lose its official Warranty. So to overcome this, download fastboot from Internet.
Steps for installing CM10 Android 4.1.1 Jelly Bean ROM for Motorola Atrix 4G
Step 1
From your Android device disconnect & remove the memory card and insert it in your Computer using a card reader. You must not use USB cable, since CyanogenMod do not work properly through USBs.
Step 2
Now do repartition of memory card, by just doing right click on the existing partition, choose Resize option, and then apply the sufficient amount of space towards your new partition. Make your new partition as your primary partition of Ext4 file system. Press the Apply option & remove your memory card now.
Step 3
Using the Internet, download: Download CM10 Android 4.1.1 Jelly Bean and Google Apps from the Google store in your Computer. Again reinsert it in the PC and then copy the above downloaded zip file in a folder named as "root" under your SD Card. Don't run or try to open this file, just copy it in the folder.
Step 4
Now, remove your memory card from the Computer. Then shut-down your Android smartphone and then again insert back memory card in the phone.
Step 5
Now, enter into the Recovery Mode. For this just press the Down Volume & Home button simultaneously, and while pressing these buttons press down your Power button at the same time.
Step 6
Since you are now in the Recovery Mode, select the "install zip from SD card" option, and then select the "choose zip from SD card" option to browse into your SD Card. Now, navigate up to the downloaded "Download CM10 Android 4.1.1 Jelly Bean.zip" file for flashing it on your phone.
Step 7
Now get yourself back to the main menu by pressing back button and then reboot your Android phone.
Step 8
After this, you'll have CyanogenMod 10 ROM installed over your Android device. Thus now the Motorola Atrix 4G users can enjoy an almost 99.99% identical Android 4.1.1 Jelly Bean in their phones.
Finished!
Related Articles: