How to Unlock Bootloader on Samsung Galaxy Tab 10.1
In this tutorial we will guide you step-by-step on how to unlock bootloader on Samsung Galaxy Tab 10.1. Here's the procedure.
Samsung Galaxy Tab 10.1 is featured with 1 GHz Dual-core Cortex-A9 processor, a RAM of 1 GB, and a 16/32 GB Storage. Like the previous Samsung's tablets, it has also created a large user base or fan base. With an affordable price range, they also have provided some really good features with an elegant design and stunning look.
Android Bootloader
Bootloader is a sort of programming code that must be executed just before any OS begin to run. Every Android-based tablet has its own kind of Bootloader that orders and instructs its OS kernel to boot routinely or we can say 'Normal Booting'.
But it should be noted here that since an Android is an open source operating system and is bundled on an array of different hardware, therefore we find different classes of bootloader on different kinds of hardware.
Although android is an open source operating system, still you will find a locked bootloader on the device. This is due to the reason that the device manufacturers want to keep the user on their particular Android OS version exclusively designed for that device.
They would not like to see the user playing around with their OS's security. When someone desires to flash the Custom ROM of his device for installing another Custom ROM, then his first step is to unlock the bootloader of the device.
Disclaimer
This tutorial will definitely work when unlocking the bootloader of Samsung Galaxy Tab 10.1. On applying this update to another model or device may give an unwanted result. Due to unlocking of Bootloader, your Android device may lose its official Warranty and while applying this update we will not be responsible if anything occurs to your device, so continue at your own risk.
Just follow the simple steps given below
Pre-Requisite
For successful completion of this process charge your tablet up to a minimum of 75% battery.
You must take a back-up of all your personnel items and other impotent data, such as Call Logs, SMS, Contacts, Audios, Images, Videos, APN (Access Point Names) settings, Bookmarks, MMS settings, on your tablet.
Please ensure that all your security suites, like firewall and antivirus, on Samsung Galaxy Tab 10.1 as well as on computer must be disabled.
You must enable USB Debugging mode on your Samsung Galaxy Tab 10.1.
Steps for Unlocking the Bootloader of Samsung Galaxy Tab 10.1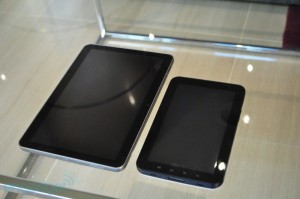 Step 1
Firstly, download Java SDK and then install it.
Step 2
Now, download Android SDK and USB Drivers.
Step 3
Next, you have to edit the following file.
Step 4
Now in the above file, paste/copy the below given lines in the [Google.NTamd64] part of x64 bit MS Windows or in the [Google.NTx86] part of x32 bit MS Windows.
Step 5
Now, switch off your phone to enter into the Fastboot Mode. For this just press the Down Volume button simultaneously with Power button at the same time.
Step 6
Next, open the Command Pompt of your PC and type the following in it and then click enter.
Step 7
Now, wait for some minutes while your device will be detected.
Step 8
Next, again open the Command Pompt of your PC and type the following in it and then click enter.
Step 9
Now, choose Yes by using the Down Volume button and then confirm on it using the Up Volume button.
Step 10
After the completion of unlocking of bootloader process, you should select the "reboot system now" option to restart your device, and then reboot it in the Normal Mode.
Finished!
Related Articles: