Review: Wondershare MobileGo for Android
Lovers of Android phones always find one or other flaws in the Apple devices. But have you ever thought that the Apple devices too, have their own pros, lest they would not be so popular in the industry. When you want to connect two products of Apple, you will be awed by the seamless transfer of data that can happen two ways between them. Have you ever come across such flawless back and forth data transfer between Android devices? For sure, the answer is "No"! Do you want to enjoy the same pros, and then you need to consider using Wondershare MobileGo for Android.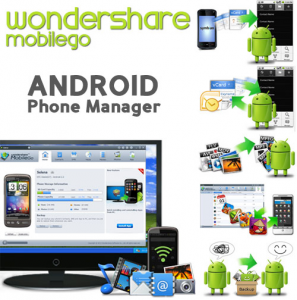 What is Wondershare MobileGo for Android?
Creating a backup is the toughest task. This does not mean it is very tiresome task, but not many like to indulge in this work that needs patience and bit of time, where you would not be using your mobile, as data transfer will not allow you to use your mobile as usual. With Wondershare MobileGo app, you can create backup of videos, photos, music, SMS, apps, call logs, contacts, calendar and everything else easier and faster. When you want to restore the backup files, all you need to do is to click, and it gets done.
Using Wondershare MobileGo for Android
You need to connect your Android smartphone to your Windows PC to transfer the required files. For this, you need to download and install Wondershrare MobileGo to your system initially. After installation, you will have to connect your phone using USB and let the software recognize the phone. At times, you may need to download a driver for the phone, to make it recognize the software. If you face such issues, let Wondershare know about this. This happens when the Android smartphone is not one of their supported devices. In such cases, when you let know Wondershare, they make sure the device gets added within 24 hours so that you can use it easily.
Pros
You can manage all data in the SD card and mobile phone's memory with ease. It is convenient to manage the data because you can drag and drop all files in the Android mobile wirelessly.
You can convert any form of video like FLV, MOV, AVI,  MPG and much more to MP4 or MP3,  the Android optimized formats.
The same is the case of audio conversion. If you love to listen to iTunes music, then you easily sync playlist of iTunes to your Android phone. Your contacts can be edited and transferred easily and conveniently.
Playing with apps is now easier with Wondershare MobileGo. You can download apps, install or uninstall them, create a backup of the apps, export them to the SD card, and can speed up the Android smartphone using the MobileGo APK file.
MobileGo lets the users to text to a big group of contacts from the PC at one go. You can also store important messages, and export them from the Android phones. You can hang off the calls with a message using your computer, when you do not want to attend the calls. You can group all your bookmarked websites and view them at leisure.  MobileGo lets you do this more conveniently, than you would.
Cons
The downside of this app is not yet discovered.
Bottom Line
This excellent app lets you all these things with one touch and a few clicks. This app is available for $45. If you are still skeptic try it for a full trial demo version. You would be for sure satisfied and would love this excellent app to be a part of your Android phone.